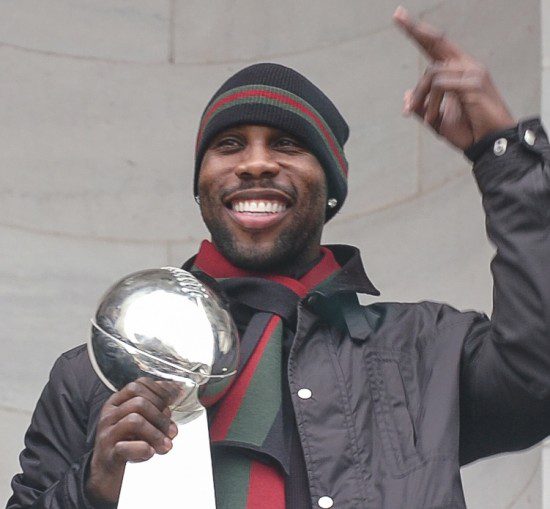 For me, the best part of this year's Super Bowl wasn't the snore of a game, but something that happened on the pre-game show.
A clip was aired showing a player from the San Francisco 49ers, Anquan Boldin, being named the "2015 Walter Payton Man of the Year". By NFL standards, Boldin has had a long career—13 years and counting. He won a Super Bowl with the Baltimore Ravens in 2013. But this award wasn't for his heroics on the field; it was for his philanthropic endeavors off it.
Boldin runs a charitable foundation that bears his name with the mission to "expand the educational and life opportunities of underprivileged children". This includes everything from running summer camps and Thanksgiving food drives, to providing four-year college scholarships to those in need. (13 full scholarships to date.) Bolden has given millions of his own dollars to the cause.
But watching his acceptance speech, what really struck me about Boldin was how he saw his NFL career. When the wide receiver made it to the NFL, he first thought he had achieved his dream. But he soon realized something else—"that's not what life is all about." According to Boldin:
I realized my purpose in life was not to make it to the NFL and score touchdowns. God put me on this earth for something much bigger than that.
His purpose was not to play football for the glory and adulation of the fans or his love of the sport—he was playing football for what it allowed him to do outside the game—use his name and money to start an organization that helped others less privileged than himself.
Boldin went on to say:
It's my prayer and my hope that I can live out the rest of my life honoring God and helping as many people as possible.
It got me thinking: what if we all took the same attitude toward our successes in life? What if we treated the money we earned, the talents we possessed, the accolades we received, as gifts given to us by God—tools to be used not for our own gain but to help others less fortunate than ourselves?
It's enough to make you wonder if, like Anquan Boldin, God doesn't have a plan for you and me, as well.