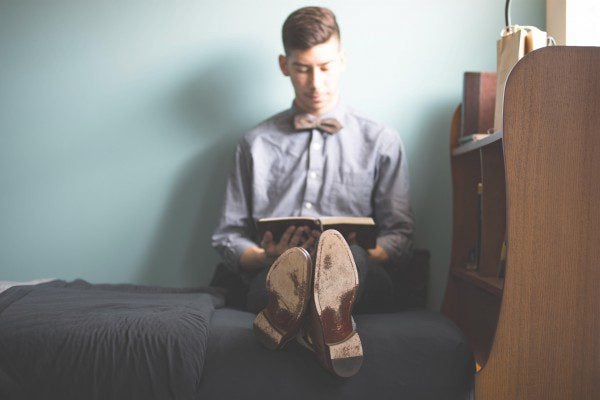 Every few years there's a spirituality book that captures the imagination of the public and becomes a big bestseller. Think The Secret by Rhonda Byrne or A New Earth by Eckhart Tolle, or before that, you may remember The Celestine Prophecy by James Redfield from the early-90's or even Jonathan Livingston Seagull by Richard Bach from the early-70's.
Well, once upon a time there was a spirituality book that was even bigger than those classics. It came out all the way back in 1897 and since it's now 120 years old, there's a good chance you've never heard of it. It's called In Tune with the Infinite by Ralph Waldo Trine and it's considered by some to be the greatest spiritual book of all time.
A pioneer in the era's New Thought Movement, Trine wrote over a dozen books, but it was this one that caught fire with the public and went on to sell over 2 million copies. Just how popular was In Tune with the Infinite? I actually have a worn dustcover from the 1909 edition and here's what the publisher says on it:
It has become a world classic in its line. One traveler writes that he has come across a man reading it sitting on the banks of the Yukon; another that he finds it in the shops and even the little railway stations in Burmah and Ceylon. An American reviewer has said: "For one to say that he has never head of 'In Tune with the Infinite' is similar to saying that he has never heard of the Constitution of the United States."
For a book that achieved such worldwide popularity, it's main message was relatively simple: God is within us at all times and accessible by us at all times. By realizing that we have this presence inside us, and by getting "in tune" with this infinite and divine source of love and guidance, our lives and world can be changed for the better. Trine writes it's up to us:
You and I have the power, the power within us, to open or close ourselves to this divine inflow exactly as we choose. This we have through the power of mind, through the operation of thought.
Over the next several pages I've spread out a bunch of my favorite passages and added headings. I've also done some light editing, updating verbiage that was dated or awkward, shortening some of Trine's writings to avoid redundancy and, where possible, making the language gender neutral. Before you begin, here's a sample from the book's prelude that talks to just how important our mindset is:
The optimist is right. The pessimist is right. The one differs from the other as the light from the dark. Yet both are right. Each is right from their own particular point of view, and this point of view is the determining factor in the life of each. It determines whether you have a life of power or of impotence, of peace or pain, of success or failure.
Once you read a few pages, I'm sure you'll get the gist of Trine's powerful message. Read them slowly and I think you'll agree, much of what he writes has the ring of truth even today. To get started, hit the "Continue" bar below.