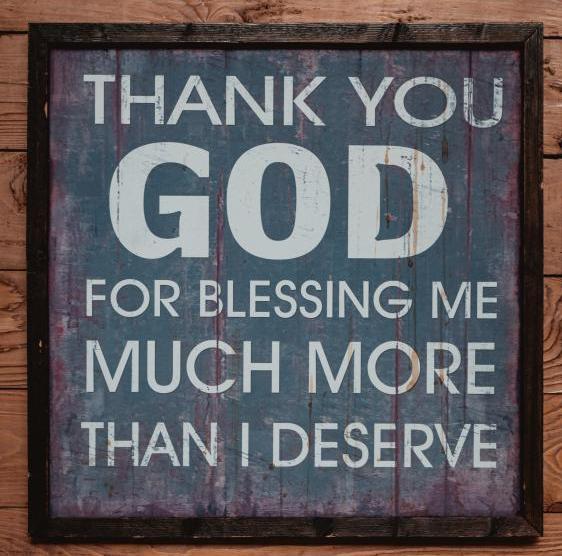 Welcome to a Thanksgiving like none ever. If you're like a lot of people, the alarming surge in Covid-19 cases, combined with warnings from public health officials, has altered your holiday travel plans or changed the plans of friends and family members you were expecting to see.
What can we do but make the best of it? While the Thanksgiving gatherings may be smaller than usual, across America we will still be celebrating the holiday. In my home, we'll have a glorious turkey dinner with all the fixings, a football game on the TV, and the beer and wine will flow. We will still connect with loved ones, only this year it will be via telephone or Zoom.
We will also kick-off dinner with a prayer. Many years ago, I shared the following Thanksgiving prayer, courtesy of John Templeton. It was written in 1991 by Pauline Philips who for years penned the "Dear Abby" column under the name Abigail Van Buren. (BTW, while Pauline passed away several years ago, Dear Abby is still around today, written by Pauline's daughter.)
The original Dear Abby column started with a letter to her readers followed by a prayer; you'll find both below. Most of the words were written by Pauline Phillips, though I have lightly edited both the letter and prayer to better reflect today's Covid-19 reality.
Dear Readers:

Tomorrow is Thanksgiving. So, despite the circumstances, let us pause for a moment and make a mental note of all those blessings for which we can be thankful.

How is your health? You have a few minor complaints? Well, thank God they're not major. If you're reading this, you're still here. You can probably think of at least one person who isn't around this year. (I know I can.)

How is your pocketbook? Thin? You're not alone. There are millions of Americans who are suffering financial hardship. But many people in much of the world are a lot worse off than you and have far less hope than we have in America.

Are you lonely? Well, the way to have a friend is to reach out to someone and try to be a friend. If nobody calls you, call someone. Go out of your way today to call or connect with another person. It's a sure cure for the blues.

Are you concerned about your country's future? Hooray! Our system has been saved by such concern. Our country may not be a rose garden, but it is far from a patch of weeds. You can worship in the church of your choice (or not worship at all if that's your choice), cast a secret ballot and even criticize our government without fear of retribution.

As a final thought, here's my Thanksgiving prayer. Perhaps you will want to use it at your table.
Thanksgiving Prayer #1: A Prayer from Dear Abby
Heavenly father, we thank you for this food and remember the hungry.

We thank you for our health and remember the sick.

We thank you for our friends and remember the friendless.

We thank you for our freedom and remember the enslaved.

May these remembrances stir us to help those in need,

So that your gifts to us may also help others. Amen.
Thanksgiving Prayer #2: A Prayer of Gratitude
This second prayer is one we've used before and I'll be reintroducing it at our Thanksgiving table this year. It's a simple, participatory prayer of gratitude, directed to God, the Universe, or whatever higher power you believe in. It only takes a few seconds and goes like this:
"I give thanks (to God) for all the good in my life. I am thankful for ___________"
You fill in the blank. Complete the thought by giving thanks for the meal in front of you. Give thanks to the friends or family around you for their kindness and companionship. Give thanks for any recent good fortune in your own life, even if it's something as basic as your continued good health. Give thanks to the health care workers on the front line of this crisis or for the recent discovery of effective Covid-19 vaccines that will help us get out of this mess.
The next step is to pass this prayer around the table. Ask each person to chime in with what they're thankful for. If needed, prompt them with some of the ideas above. You'll find this simple group prayer has a way of uplifting everyone's spirits, reminding us that we have much to be thankful for, even during this craziest of years.
Happy Thanksgiving to you and your family.