Now Featured at the Patheos Book Club
Anxious
Choosing Faith in a World of Worry
By Amy Simpson
About the Book
Our culture is frantic with worry. We stress over circumstances we can't control, we talk about what's keeping us up at night and we wring our hands over the fate of disadvantaged people all over the world, almost as if to show we care and that we have big things to care about. Worry is part of our culture, an expectation of responsible people. And sadly, Christians are no different.
But we are called to live and think differently from the worried world around us. The fact is, worry is sin, but we don't seem to take it seriously. It is a spiritual problem, which ultimately cannot be overcome with sheer willpower—its solution is rooted entirely in who God is.
How can we live life abundantly, with joy, as God has called us to do, when we're consumed by anxiety? We are commanded not to worry, not only in the well-known words of Jesus recorded in Matthew 6, but also throughout the Old Testament and the epistles to the church. The Bible makes it clear that the future belongs only to God, who rules and is not subject to the limitations of time. To live with joy and contentment, trusting God with the present and the future, is a countercultural feat that can be accomplished only through him.
Challenging the idolatrous underpinnings of worry, former Christianity Today executive Amy Simpson encourages us to root our faith in who God is, not in our own will power. We don't often give much thought to why worry offends God, but indulging anxiety binds us to mere possibilities and blinds us to the truth. Correctly understanding the theology of worry is critical to true transformation. This is a book not just for people who worry; this is a call to the church to turn its eyes from the things of earth and fix its eyes on the author and completer of our faith.
About the Author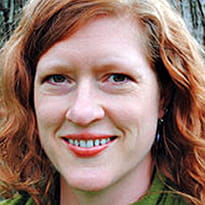 Amy Simpson (MBA, University of Colorado) is a passionate leader and communicator who loves to encourage Christ's church and its people to discern and fulfill their calling in this life. Amy is a former publishing executive who currently serves as Editor of Christianity Today's Gifted for Leadership and Senior Editor of Leadership Journal. She is also a personal and professional Co-Active coach.
She has spent nearly two decades as an award-winning writer, authoring numerous resources for Christian ministry, including Diving Deep: Experiencing Jesus Through Spiritual Disciplines, In the Word: Bible Study Basics for Youth Ministry, Into the Word: How to Get the Most from Your Bible and Troubled Minds: Mental Illness and the Church's Mission. She has published articles with Christianity Today, Leadership Journal, Today's Christian Woman, Christian Singles, Group magazine, Relevant, Her.meneutics, and others. She has worked for Tyndale House Publishers, Group Publishing, Gospel Light, Standard Publishing, LifeWay, Focus on the Family, and Christianity Today.
Amy holds an English degree from Trinity International University and an MBA from the University of Colorado. She is deeply in love with her incredible husband, Trevor, and extremely proud of her two fantastic kids. She lives with these wonderful people in Illinois, where she is committed to using the gifts God has given her in work that changes the world.
10/16/2014 4:00:00 AM