Now Featured in the Patheos Book Club
The Afterlife of Billy Fingers
How My Bad-Boy Brother Proved to Me There's Life After Death
By Annie Kagan
About the Book
Annie Kagan is not a medium or a psychic, she did not die and come back to life; in fact, when she was awakened by her deceased brother, she thought perhaps she had gone a little crazy.
In The Afterlife of Billy Fingers: How My Bad-Boy Brother Proved to Me There's Life After Death, Kagan shares the extraordinary story of her after death communications (ADC) with her brother Billy, who began speaking to her just weeks after his unexpected death.
One of the most detailed and profound ADC's ever recorded, Kagan's book takes the reader beyond the near-death experience. Billy's vivid, real-time account of his on-going journey through the mysteries of death will change the way you think about life, death and your place in the Universe.
About the Author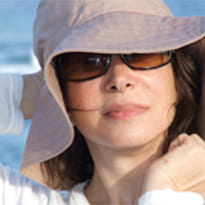 When she was sixteen, Annie Kagan was signed by a producer from Columbia Records. After ten years as a singer and songwriter performing in New York City cafes and clubs, Annie returned to college and became a chiropractor with a private practice in Manhattan.
After a chance meeting with a spiritual teacher, she began an intense meditation practice that eventually led her to leave her career as a doctor and her hectic city life in search of serenity. She moved to a small house by the bay on the tip of Long Island and returned to songwriting, collaborating with Grammy and Emmy award-winning producer Brian Keane.
When her brother Billy died unexpectedly and began speaking to her from the afterlife, her future took another surprising turn. She recorded her conversations with Billy from the other side and published them in her debut book The Afterlife of Billy Fingers.
Visit Annie's website here: www.anniekagan.com.
And 'like' her Facebook page here: https://www.facebook.com/AfterlifeBillyFingers
11/16/2014 5:00:00 AM