Now Featured at the Patheos Book Club
Why God Created the World
A Jonathan Edwards Adaption
By Ben Stevens
About the Book
It is entirely possible that God could have existed without the universe, and without humans, for all eternity. But for some reason, He decided to create anyway. What inspired Him to start the human story in the first place, and how should the answer to that question affect the way we view our lives? Few Christians ever stop to seriously consider these deepest-of-all deep questions.

Jonathan Edwards explains, in his original dissertation: God's inherent predisposition to spread out His truth, goodness, and beauty motivates everything He does. So, His decision to create our universe was motivated not by a desire or need for us, but by a desire to glorify Himself.

Ben Stevens' remarkable new adaptation brings Edwards' powerful arguments to life in fresh, contemporary language. In addition, thought-provoking questions for discussion or reflection invite readers to engage with the concepts and begin to apply them.
About the Author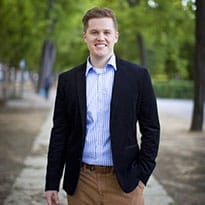 Ben Stevens holds an MDiv with an emphases in preaching and intercultural studies from Trinity Evangelical Divinity School. Born in west Tennessee and raised throughout the South, he later studied German at Missouri State University and at Philipps Universität (Marburg, Germany). He and his wife, Becky, serve cross-culturally in Berlin, Germany. His writing has been published in the online versions of The Washington Times, First Things, Huffington Post, Christianity Today, Relevant Magazine, and the Gospel Coalition blog
7/3/2014 4:00:00 AM