Now Featured in the Patheos Book Club
Answering the Contemplative Call
First Steps on the Mystical Path
By Carl McColman
"Mysticism is a process and one in which everyone is called to participate. That is McColman's starting point. From there he discusses mysticism, meditation, and comtemplation. He uses the Judeo-Christian tradition as his framework. He weaves writings by and about Christian mystics through the text to help communicate his ideas, but while the quotes date back to the time of Jesus, McColman's writing brings it all forward into the 21th Century. There are sections of the text that echo Zen, Taoist, and Buddhist practice, making it an excellent natural bridge to interfaith study for Christian customers who are ready for that. Those who aren't will learn how to make traditional Christian beliefs more personally fulfilling. The mix of history and practice, communicated in real world language, makes this a very valuable resource."
—Anna Jedrziewski, Retailing Insight, February 2013
The mystical path is not some sort of static experience for the select few, says Carl McColman, rather, it is a living tradition, a rich and many-layered dimension of spirituality that is in large measure a quest to find the mysteries at the heart of the universe, paradoxically nestled within the heart of your own soul.
McColman first introduced readers to Christianity's lost mystical roots in his popular book, The Big Book of Christian Mysticism. Now McColman is back with Answering the Contemplative Call, to show readers how to apply the riches of the mystical tradition to daily living.
This book is organized in three sections:
"Recognizing the Call," explores how each one of us is called to the mystical life, and what that might look like.
"Preparing for the Journey," shows what we need to do in response to the contemplative call.
"Embarking on the Adventure" considers what those first steps on the path might look like.
Along the way McColman quotes from the great mystics of the Christian tradition who have also traveled this path, including Teresa of Avila, Thomas Merton, Evelyn Underhill, and more.
About the Author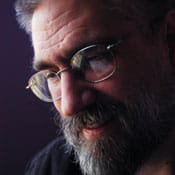 Carl McColman is a writer, speaker, retreat leader and spiritual director. His blog, www.anamchara.com, celebrates the mystical and contemplative dimensions of both Christian and world spirituality. He is a regular contributor to Patheos, and his writing has also appeared in the Huffington Post.
He studied Christian meditation at the Shalem Institute for Spiritual Formation, and received additional training in the art of spiritual direction from the Institute for Pastoral Studies in Atlanta. He is a professed member of the Lay Cistercians of Our Lady of the Holy Spirit, a community under the spiritual guidance of the Trappist monks of the Monastery of the Holy Spirit. As a Lay Cistercian, his spirituality is ordered toward what Walter Hilton called "the mixed life"—devoted to the practice of contemplation within the context of marriage and family, outside of a traditional monastery.
Carl is the author of over a dozen books, including Answering the Contemplative Call: First Steps on the Mystical Path, The Big Book of Christian Mysticism: The Essential Guide to Contemplative Spirituality, and The Lion, the Mouse and the Dawn Treader: Spiritual Lessons from C. S. Lewis's Narnia.
Carl lives near Stone Mountain, Georgia, with his wife and stepdaughter.
2/1/2013 5:00:00 AM