Now Featured in the Patheos Book Club
Mediating Faith
Faith Formation in a Trans-Media Era
By Clint Schnekloth
About the Book
The church struggles with media. Whether it is a denomination negotiating the 24-hour news cycle or a church evaluating how online games influence the youth group, the role of media in the church, and the importance of understanding media for the church, has never been greater.
In Mediating Faith, Clint Schnekloth offers an insightful tour, evaluation, and theological response to the trans-media era. Far from frightening, Schnekloth highlights the opportunities and the riches of this fascinating time.
Contents
Introduction
Part One: Emerging Media Contexts and Minority Reports
1. Examining Trans-media Effects
2. Listening to the Quasi-luddites' Legitimate Laments
Part Two: The Meaty Analysis Section
3. The Effects of Catechumenal Preaching
4. The Effects of MMPRPG's Procedural Rhetoric
5. More Prosaic Media Forms and Formation
Part Three: The Proposal
6. On Pneumatology and Material Culture
7. Beauty, Eschatology, Sociality: The Way Forward
Summary and Conclusion
Bibliography
About the Author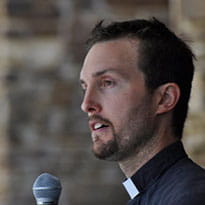 jpg?w=100&hash=76CD6DF91DE2689676552F23ECBC379C396829DA" style="float: right; margin: 4px 8px;" width="100">
Clint Schnekloth
is lead pastor at
Good Shepherd Lutheran Church
, Fayetteville, Arkansas. He has blogged for more than a decade as
"Lutheran Confessions,"
and consults widely on digital social media ministry.
Visit Clint's website here: http://www.clintschnekloth.com
3/16/2014 4:00:00 AM