Now Featured in the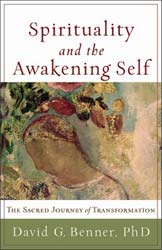 Patheos Book Club
Spirituality and the Awakening Self
The Sacred Journey of Transformation
By David G. Benner
About the Book
Being human is a lifelong journey of becoming. This journey defines our humanity, for it is a journey toward our source and our fulfillment, described in Christian theology as union with God. If we remain open to God as our sense of self awakens, we experience a deeper consciousness of being in him. The self that emerges during this process is larger, more enlightened, and whole.
David Benner, who has spent thirty-five years integrating psychology and spirituality, presents psychological insights in a readable fashion to offer readers a deeper understanding of the self and its spiritual development. Drawing on a broad range of Christian traditions, Benner shows that the transformation of self is foundational to Christian spirituality.
This book will appeal to readers interested in a psychologically grounded, fresh exploration of Christian spirituality; professionals engaged in pastoral care, counseling, and spiritual direction; and students in ministry development and spiritual formation courses. Questions and answers for individual or group use are included at the end of each chapter.

David G. Benner (PhD, York University; postdoctoral studies, Chicago Institute of Psychoanalysis) is an internationally known psychologist, author, spiritual guide, and personal transformation coach. He currently serves as Emeritus Distinguished Professor of Psychology and Spirituality at the Psychological Studies Institute, Richmont Graduate University. He has authored or edited more than twenty books, including Soulful Spirituality and Strategic Pastoral Counseling. Benner lectures widely around the world and has held numerous clinical and academic appointments.
Visit his website at www.drdavidgbenner.ca.
3/16/2012 4:00:00 AM