Now Featured at the Patheos Book Club
Stellarella! It's Saturday!
By Deborah W. Dykes
Illustrations by Christina Mattison Ebert-Klaven
About the Book
Stellarella! It's Saturday! is the first in a series of children's books for progressive little thinkers and introduces young children to a cast of female characters who offer a variety of role models to inspire and encourage. This unique progressive little book is endorsed by world renowned authors and theologians John Dominic Crossan and Joan Chittister.
Learn more about Stellarella, and join her adventures, at her website here: www.stellarellaandtank.com.
About the Author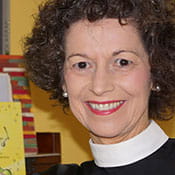 Deborah W. (Debo) Dykes holds a Bachelor of Science and a Master's degree in Education. She has been an elementary school teacher, middle school science teacher, and a director of academic advance for higher education. Following graduate work in Anglican Studies she was ordained in the Episcopal Church at St. John's Episcopal Cathedral in Denver, CO. Debo was a NASA Teacher in Space National Finalist and has earned several awards including Louisiana Teacher of the Year & Outstanding Female Educator, and selection as a Chautauqua Institute Fellow in the 2008 New Clergy Program, Chautauqua, N.Y. Debo's years of experience in teaching elementary, middle and higher education, and the development of curriculum, are imbued with a commitment to accuracy and justice. Her participation in a Lilly Endowed program, "Behold the Feminine Face of God," was a transformative experience that suffused her teaching, research, and subsequent authoring of her new children's book series, Stellarella!
Deborah, known to friends and family as "Debo," was born in Shreveport, Louisiana and spent most of her life in the Deep South. She is inspired by the fecund smells of a ripe swamp, eating fried crawfish, oysters-on-the-half-shell and playing in the rain. Since childhood she has loved walking on stilts, hopping on a pogo stick, and rescuing worms after a heavy summer rain. Debo is a certified NAUI diver and has no fear of "getting in over her head." She is a children's book author of five Stellarella and Tank stories and a member of SCBWI. She shares her life with her husband, David, her family, and friends.
Readers can follow Stellarella and Tank at www.stellarellaandtank.com, as well as on facebook, twitter and google+.
About the Illustrator

Christina Mattison Ebert-Klaven received her artistic training both on her own and at the Maryland Institute, College of Art in Baltimore, where she took classes in multiple disciplines including drawing, painting, sculpture and graphic design. She is experienced at balancing her love of drawing with her love of Excel spreadsheets, and has a Masters in Business Administration from Loyola University Maryland which helps her run her growing freelance operation, C. Mattison Illustration. (In case the love of spreadsheets is not nerdy enough, she also studied neuroscience and used to review for tests with coloring books of the human nervous system.)
Originally from Columbia, Maryland, Christina currently resides in Jackson, Mississippi. She spends most of her time busily attempting to acclimate to the Deep South by practicing her Southern drawl, concealing any paraphernalia that hint at her family's Yankee roots, frying all of her food and subsequently putting out large grease fires. In addition to searching for her inner "Southern-ness," she works on a variety of illustration projects including children's books, illustrated maps, book covers and Judaica (Jewish art). She is married to Rabbi Marshal Klaven and they share their home with a toy poodle and a lovebird, whose food Christina occasionally attempts to fry.
8/16/2013 4:00:00 AM