Now Featured in the Patheos Book Club
The Christian World of the Hobbit
By Devin Brown
In his beloved story, The Hobbit, J.R.R. Tolkien takes readers into a world unlike any other, yet so much seems familiar. As Bilbo journeys there and back again, glimpses of the spiritual are seen. Previous guides to Tolkien's fiction have often made one of two wrong turnings: either they have entirely overlooked the Christian elements or they have claimed to find "Christian" elements everywhere, going far beyond the fundamental aspects that have been absorbed into the story.
The Christian World of The Hobbit does what no book has done: it brings Tolkien fans new delight by introducing a side of Tolkien that is rarely explored but vitally important to his writings -- especially to The Hobbit. Written by internationally regarded Tolkien scholar, Devin Brown, this approachable, witty, and highly entertaining book offers up fresh perspectives to fans of The Hobbit, both the book and the film adaptation.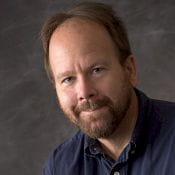 About the Author
Devin Brown is a Lilly Scholar and Professor of English at Asbury University, where he teaches a class on C.S. Lewis and J.R.R. Tolkien. He is the author of Inside Narnia (2005), Inside Prince Caspian (2008), and Inside the Voyage of the Dawn Treader (2010). He has spoken at Lewis and Tolkien conferences in the UK and the U.S. Devin has published numerous essays on Lewis and Tolkien for cslewis.com, Christianitytoday.com, SamaritansPurse.org, and Beliefnet.com.
He holds a Ph.D. from the University of South Carolina and a Master's degree in creative writing from the University of Florida. He has done further study at Oxford University, University College Dublin, and University Laval in Quebec.
Dr. Brown has been a judge for Christianity Today's Book of the Year Award. He has served as a Consulting Editor for Irish Studies Review. In 2010 he was a contributor and Advisory Board member for The C. S. Lewis Bible published by HarperOne. He is a recipient of The Francis White Ewbank Award, Asbury's highest honor for teaching.
He currently lives in Lexington, Kentucky.
11/1/2012 4:00:00 AM