Now Featured at the Patheos Book Club
Fully Alive
A Biblical Vision of Gender That Frees Men and Women to Live Beyond Stereotypes
By Dr. Larry Crabb
Discover who you were truly meant to be and how you were truly meant to live.
Gender roles have been the subject of much debate and confusion over the last several decades. What is expected of a man? What is expected of a woman? And where do those expectations come from? But the Bible is clear—God created men and women to be unique and He did so for a purpose.
In Fully Alive,author and psychologist Dr. Larry Crabb offers a life-changing, biblically dependent understanding of gender uniqueness. He shows you how to appreciate and exhibit your God-given femininity or masculinity to reveal God's loving character to a world that is desperately in need of understanding.
How the message of Fully Alive is helping people all over the world . . .
"I had just come out of an abusive thirty-year marriage when I heard Larry teach on masculinity and femininity. The Lord used that teaching to begin the restoration process of my shattered soul and identity of who God created me to be."
—Kerry F., Arizona, single/counselor
"Larry's teaching on gender has impacted my personal life, my marriage, and my leadership of the men's ministry at my church."
—Charles B., Illinois, husband/father/pastor
"His gender message is biblically based and easy to understand. It has revolutionized the way we relate to each other. We believe this book is vital for those desiring authentic marital intimacy."
—Ryan and Heather C., Virginia, husband/pastoral counselor and wife/mentor
"Seeing the potential in giving and receiving, I realize it is a waste of time to compete. Both men and women will benefit greatly by honoring their calling, resulting in freedom and joy."
—Tom N., Norway, husband/father/retired
"Dr. Crabb's teaching on gender taught me a new way of relating to my wife. There is a drastic shift in my soul. . .This new way has breathed life into our marriage."
—John F., North Carolina, husband/father/pastor
"I experienced a distinct paradigm shift in my counseling upon learning about how gender relates to being created in God's image. Now there is an increasing desire to live out His strength in being the man He created me to be."
—David W., Texas, husband/father/counseling pastor
About the Author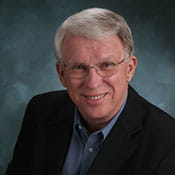 Dr. Larry Crabbis a well-known psychologist, conference and seminar speaker, Bible teacher, popular author, and founder/director of NewWay Ministries. He is currently scholar in residence at Colorado Christian University in Denver, and visiting professor of spiritual formation for Richmont Graduate University in Atlanta. Dr. Crabb and his wife of 46 years, Rachael, live in the Denver, Colorado, area. For additional information please visit www.newwayministries.org.
6/1/2013 4:00:00 AM