Now Featured in the Patheos Book Club
12 Miracles of Spiritual Growth
A Path of Healing from the Gospels
By E. Kent Rogers
Bridge Book Award Winner 2011
Our spiritual wounds and weaknesses, E. Kent Rogers tells us, are truly blessings in disguise. They allow the Lord to enter our hearts and work through us, revealing his healing power to all.
In this practical guide to healing our inner selves, Rogers take the reader on a journey through twelve of Jesus's miracles from the Gospels, examining the lessons that each can teach us. From the story of the Canaanite's daughter (healing from feelings of unworthiness) through the miracle of the resurrection of Lazarus (finding spiritual rebirth), Jesus's miracles trace a path of spiritual growth that is as powerful today as it was during his lifetime.
Written as a guide for group sharing, this book can also be used for personal study. Each chapter concludes with a guided meditation, a summary of the lessons taught by the miracle being discussed, suggested exercises, and questions for discussion or reflection. While the book grew from the author's experience as a Swedenborgian, it can easily be used by seekers from any faith tradition.
Table of Contents
Introduction
Chapter 1. Healing from Feelings of Unworthiness - Matthew 15:21-28
Chapter 2. Healing from Lack of Forgiveness - Mark 2:1-12
Chapter 3. Healing from Spiritual Slavery - Mark 5:1-20
Chapter 4. Healing from Inner Warfare - Mark 5:21-43
Chapter 5. Healing from Lost Innocence - Mark 5:35-43
Chapter 6. Healing from Doubt - Mark 9:14-29
Chapter 7. Healing from Faith-Arrogance - Luke 7:1-10
Chapter 8. Healing from Lack of Joy - Luke 17:11-10
Chapter 9: Healing from Fear - Matthew 26:51-54; Mark 14:46-52; Luke 22:49-51; John 18:10-11
Chapter 10: Healing from Spiritual Apathy - John 5:1-14
Chapter 11: Healing from Blame-Blindness - John 9:1-41
Chapter 12: Resurrection from Spiritual Death - John 11:1-44
Appendix: Meditation
About the Cover Photo
About the Author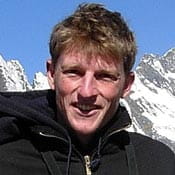 E. Kent Rogers, a graduate of Bryn Athyn College with a BA in religion, will obtain a MS in mental health counseling from the University of Massachusetts in spring 2012. A series of events coinciding with a powerful spiritual experience led Kent, with the help of others, to create the Loving Arms Mission, a non-for-profit fundraising organization dedicated to creating and supporting New Church children's homes around the world. In 1999, Kent moved to Nepal to start the first of these orphanages. In 2002, he married Shovha Budhathoki, a co-worker and Nepali national. Loving Arms Mission has since begun supporting a second children's home in Nepal.
5/1/2012 4:00:00 AM