Now Featured at the Patheos Book Club
Their Name Is Today
Reclaiming Childhood in a Hostile World
By Johann Christoph Arnold
Foreword by Mark K. Shriver
About the Book
There's hope for childhood. Despite a perfect storm of hostile forces that are robbing children of a healthy childhood, courageous parents and teachers who know what's best for children are turning the tide.
Johann Christoph Arnold, whose books on education, parenting, and relationships have helped more than a million readers through life's challenges, draws on the stories and voices of parents and educators on the ground, and a wealth of personal experience. He surveys the drastic changes in the lives of children, but also the groundswell of grassroots advocacy and action that he believes will lead to the triumph of common sense and time-tested wisdom.
Their Name Is Today takes on technology, standardized testing, overstimulation, academic pressure, marketing to children, over-diagnosis and much more, calling on everyone who loves children to combat these threats to childhood and find creative ways to help children flourish. Every parent, teacher, and childcare provider has the power to make a difference, by giving children time to play, access to nature, and personal attention, and most of all, by defending their right to remain children.
About the Author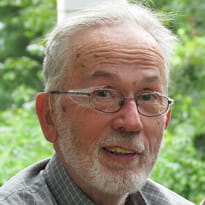 People have come to expect sound advice from Johann Christoph Arnold, an award-winning author with more than a million copies of his books in print, in more than twenty languages. A noted speaker and writer on marriage, parenting, education, and end-of-life issues, Arnold is a senior pastor of the Bruderhof, a movement of Christian communities. With his wife, Verena, he has counseled thousands of individuals and families over the last forty years, as well as serving as an advisor at several innovative private schools.
Together with paralyzed police officer Steven McDonald, Arnold started the Breaking the Cycle program, which brings the positive answer of nonviolent conflict resolution and forgiveness to schools, to counteract the fear of school shootings, as well as gang violence and bullying that affects children, teachers, and parents. Promoting reconciliation, he has spoken with students at hundreds of public schools. This work has also brought him to conflict zones from Northern Ireland to Rwanda to the Middle East. Closer to home, he serves as chaplain for the local sheriff's department.
Arnold's message has been shaped by encounters with great peacemakers such as Martin Luther King Jr.
, Mother Teresa, Dorothy Day, César Chavez, and John Paul II.
Born in Great Britain in 1940 to German refugees, Arnold spent his boyhood years in South America, where his parents found asylum during the war; he immigrated to the United States in 1955. He and his wife have eight children, forty-four grandchildren, and one great-grandchild. They live in upstate New York.
10/31/2014 4:00:00 AM