Now Featured in the Patheos Book Club
Tiny Buddha's Guide to Loving Yourself
40 Ways to Transform Your Inner Critic and Your Life
By Lori Deschene
About the Book
Many of us know intellectually that we need to be good to ourselves if we want to be happy. But it feels so hard. We are simultaneously the harsh judge and the lost, scared child who wants to stop feeling judged. It becomes a vicious cycle. It only stops when we step outside ourselves and observe how we get ourselves stuck.
"We are not alone with what we're going through. That's the core message behind TinyBuddha.com, a community blog that features stories and lessons from people of all ages from all over the world. It's a place where we can come together to share our struggles and successes, knowing that despite our unique life circumstances, we're really not all that different. No matter what we do, what we believe, where we've been, where we're going, we all want to be happy, we all want to move beyond our pain, and we all have infinite potential, if only we're will to believe it." —Lori Deschene, from the Introduction
Tiny Buddha's Guide to Loving Yourself shares 40 unique perspectives—including Lori's personal struggles with bulimia, stays in psychiatric hospitals and residential treatment centers—and insights on topics related to loving yourself, including: realizing you're not broken, accepting your flaws, releasing the need for approval, forgiving yourself, letting go of comparisons, and learning to be authentic. Featuring stories selected from hundreds of TinyBuddha.com contributors, the book provides an honest look at what it means to overcome critical, self-judging thoughts to create a peaceful, empowered life.
"It's not about forty simple action steps to change your life; it's about forty simple ways you can change your mindset right now. That, I've learned, is what changes your lives: doing our best, right now, and as best we can in the nows to come."
About the Author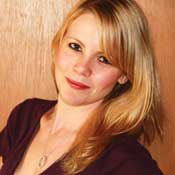 Lori Deschene is the founder of Tiny Buddha, a multi-author blog that shares stories and insights from readers from all over the globe and all walks of life. Launched in 2009, Tiny Buddha has grown into one of the most popular inspirational destinations on the web, with over 1 million monthly visitors.
Lori's work has also appeared in Tricycle, Shambhala Sun, and other publications. She lives in Southern California. Visit her at www.TinyBuddha.com.
10/16/2013 4:00:00 AM