Now Featured in the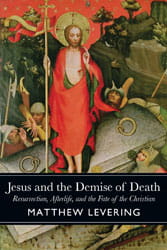 Patheos Book Club
Jesus and the Demise of Death
Resurrection, Afterlife, and the Fate of the Christian
By Matthew Levering
About the Book
What happens after death to Jesus and to those who follow him? Jesus and the Demise of Death offers a constructive theology that seeks to answer that very question, carefully considering both Jesus' descent into hell and eventual resurrection as integral parts of a robust vision of the Christian bodily resurrection.
Taking on the claims of N.T. Wright and Richard B. Hays, Matthew Levering draws strongly upon the work of Thomas Aquinas to propose a radical reconstruction of Christian eschatological theology--one that takes seriously the profound ways in which Christianity and its beatific vision have been enriched by Platonic thought and emphasizes the role of the Church community in the passage from life to death.
In so doing, Levering underscores the hope in eternal life for Jesus' followers and gives readers firm and fruitful soil upon which to base conversations about the Christian's future.
Contents
Acknowledgments

Introduction
Part I
The Passage of Jesus Christ

1 Christ's Descent into Hell

2 The Resurrection of Jesus Christ

3 Sitting at the Right Hand of the Father
Part II
The Passage of Christ's People

4 A People in Passage: Faith, Eucharist, Almsgiving

5 Can We Merit Eternal Life? 

6 Do We Have Spiritual Souls? 

7 Bodily Resurrection and Beatific Vision
Conclusion

Notes

Works Cited

Index
About the Author
Matthew Levering is Professor of Theology at the University of Dayton, a Distinguished Fellow of the St. Paul Center for Biblical Theology, and Director of the Center for Scriptural Exegesis, Philosophy, and Doctrine. His most recent publications include Jewish-Christian Dialogue and the Life of Wisdom, Christ and the Catholic Priesthood, Participatory Biblical Exegesis, and Biblical Natural Law. He lives in Dayton, Ohio.
4/1/2012 4:00:00 AM