Now Featured in the Patheos Book Club
Paul and the Faithfulness of God: Volume 4
By N. T. Wright
About the Book
Over twenty years ago, N. T. ("Tom") Wright established himself as a groundbreaking scholar in the field of New Testament studies. His The New Testament and the People of God, the first volume in a conceived multi-book series Christian Origins and the Question of God, deeply impacted cultural studies of the ancient world, New Testament historical studies, and Christian theology. Throughout the series, which now includes Jesus and the Victory of God and The Resurrection of the Son of God, Wright adopts a "critical realist" historical approach, approaching the early Christian movement within its complex historical and cultural setting in the interplay between ancient Jews, Greeks and Romans and the overlapping worlds of philosophy, religion and politics. He insists on giving priority to first century questions rather than focusing on the questions asked by the sixteenth-century Reformers, the nineteenth century modernists or today's postmodernists. Studying first-century stories, symbols, praxis and questions results in a historically grounded and theologically fruitful understanding of the early Christians.
Wright's productivity in the scholarly world parallels his strong sense of responsibility for what church and lay leaders teach about the Bible. Serving as Bishop of Durham from 1999-2010, Wright has written over sixty books, many of which are popular studies of New Testament writings for church use or inspiring theological studies for lay readers. He has been a frequent contributor to popular newspapers and magazines and has been covered and interviewed by hundreds of media personalities.
Wright's latest contribution on Paul represents his serious commitment to this landmark study. Resigning as Bishop of Durham, stepping down from serving on the United Kingdom's House of Lords, and scaling back his teaching responsibilities, Wright made the time to give proper focus and attention to Paul as the pioneer of "Christian theology," a new development based upon his epoch-changing belief that the crucified Jesus had been raised from the dead, vindicated as Israel's Messiah and exalted as the world's rightful Lord.
About the Author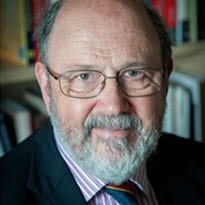 N. T. Wright is the former Bishop of Durham in the Church of England and one of the world's leading Bible scholars. The author of over sixty books ranging from scholarly studies to books for a more popular audience, Wright's audiences range from viewers of ABC News and The Colbert Report to attendees of various scholarly and ministry conferences, such as the Society of Biblical Literature to Duke Divinity School Pastor's Conference and numerous other speaking and teaching engagements.
Born in 1948, Wright's first degrees were in Classics and Theology from Exeter College, Oxford. He studied for the ministry at Oxford University's Wycliffe Hall and was ordained as a priest in 1976. While working as a chaplain and tutor in theology at Merton College, Oxford and then Downing College, Cambridge, he completed a doctoral dissertation entitled "The Messiah and the People of God" under supervisor G. B. Caird.
Wright's first full-time professorship was at McGill University in Montreal, followed by an appointment as lecturer in New Testament back at Oxford. In 2000, Wright became Canon Theologian of Westminster, and in 2003, Bishop of Durham. He was also a member of the House of Lords from 2003-2010. During this time he penned many articles, books, and commentaries meant for church use or for the curious reader in Christian studies. He also published the first three titles in his Christian Origins and the Question of God series: The New Testament and the People of God, Jesus and the Victory of God, and The Resurrection of the Son of God.
Now research professor of New Testament and Early Christianity at the University of St Andrews, Wright's current scholarly projects include planned additions to the Christian Origins and the Question of God series and a large-scale commentary on Paul's letter to the Philippians. Paul and the Faithfulness of God will release simultaneously with two other works on Paul, Paul and His Recent Interpreters—an exploration of Pauline scholarship over the last fifty years—and Pauline Perspectives—a collection of Wright's most important lectures and articles on subjects related to Paul's life, ministry, and theology.
11/1/2013 4:00:00 AM