Now Featured in the Patheos Book Club
A Confident Heart Book, DVD and Devotional
How to Stop Doubting Yourself and Live in the Security of God's Promises
By Renee Swope
About the Book
Step out of the shadows of self-doubt to live with a confident heart.
Ever feel like you're not good enough, smart enough, or valuable enough? Renee Swope understands. Even with a great family, a successful career, and a thriving ministry, she still struggled with self-doubt. Sharing her own personal story, Renee shows you how to rely on the power of God's promises to find the security you need and the confidence you long for!
Exchange fear-filled thinking with faith-filled believing
Fail forward when life or sin sets you back
Embrace your God-given purpose, passion, and personality
See beyond who you are to who you are becoming in Christ
Powerful Scripture-based prayers are at the end of each chapter, along with Bible study questions and a chart with thirty-one promises to replace our most common self-doubts.
Praise for A Confident Heart
"I'm so excited about Renee's book. She's walked this journey and gives us the gift of truths she's discovered that will sweep away self-doubt and usher in the godly confidence we've been longing for our whole lives!"
—Lysa TerKeurst, New York Times bestselling author and president of Proverbs 31 Ministries
"You'll never be the same after you read this book!"
—Sheri Rose Shepherd, bestselling author of His Princess and His Princess Bride
"I felt like A Confident Heart was written specifically for me. Renee's depth, wisdom, and willingness to be real while sharing the real of Jesus blessed me beyond measure!"
—Abby Rike, Biggest Loser, Season 8; author of Working It Out
"A Confident Heart is a captivating, story-driven book that provides real solutions to the real doubts and fears we all face."
—Jennifer Rothschild, author of Me, Myself & Lies
About the Devotional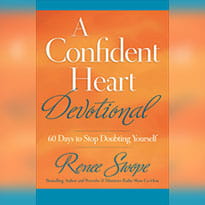 Confident, strong, and free—it's closer than you think.
We all have doubts, fears, and insecurities, even if we've convinced ourselves that other women don't share those struggles. If you're tired of feeling like you're not good enough, smart enough, or gifted enough, Renee Swope has a message for you: you already have something special to offer the world!
Expanding on her popular "When I say—God says" statements, Renee offers you a daily thought-map to help exchange your most common self-doubts for God's transforming truths. Her authentic style and soul-stirring devotions include personal stories, powerful biblical teaching, and real-life application wrapped around one of God's promises each day to help you
live confidently in your God-given roles, relationships, and responsibilities
break free from people-pleasing and performance-based living
trust the certainty of God's truth over your circumstances and emotions
Take a step toward the life of faith God designed for you and let this sixty-day journey to a confident heart be your guide.
About the DVD
Find the security you need and the confidence you long for!
Often the biggest obstacle to living out our faith is our own doubt—about our worth, our abilities, our relationship with God, and the situations in our lives. Renee Swope's award-winning book A Confident Heart has been leading tens of thousands of women into a place of lasting confidence in Christ.
With perfect jumping-off points for focused and life-changing discussions, the video segments on this DVD will help you or your small group get the most out of Renee's bestselling book.
Free printable viewer's guide and reflection questions are included.
8 SESSIONS; APPROXIMATELY 48 MINUTES TOTAL
11/1/2013 4:00:00 AM