Now Featured in the Patheos Book Club
Heaven on Earth
Realizing the Good Life Now
By Chris Seidman and Joshua Graves
What People Are Saying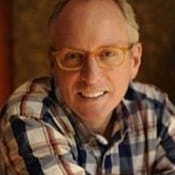 "This book is absolutely dynamite. It is one of the most inspiring, challenging, and prophetic explorations of the Beatitudes I've ever read. I can't recommend it more highly."
—Ian Morgan Cron, author of Jesus, My Father, the CIA, and Me and Chasing Francis
"Heaven on Earth reads like a parent doing their best to pass on the beauty of their faith and thus their life to the next generation. You hear the challenges and the responsibilities but first see the beauty of the kingdom and feel the call. This is a manifesto of peace and I willingly sign up."
—Melissa Greene,Pastor of Worship and Arts at GracePointe Church in Franklin, TN; solo artist and speaker; former member of CCM Artist "AVALON"
"Circling the globe covering major sporting events, I've glimpsed the glitterati's attempt to define 'the good life.' Invariably, it seems, the rich and famous end up stung by the shrapnel of a self-centered existence. Chris and Josh thumb through the holy lexicon of the Beatitudes to give us a different definition of what it means to truly live well. I've just finished reading their book, and I can tell you it's good. But I can even more personally and powerfully vouch for these authors because I've been reading them as men of integrity through deep friendship for nearly 25 years."
—Grant Boone, national sports broadcaster
"Most of us are consistently asking ourselves the question, 'What does it mean to have the blessing of God? What does it mean to live the good life?' And the world (and church) has no shortage of answers. Sadly enough, a lot of the times the answers we hear have close to nothing to do with Jesus, or his dream for the world and us. Josh Graves and Chris Seidman have written a powerful book that explains just what it means to live the blessed life now. And the suprising kinds of people that Jesus blessed. If you are looking for a taste of Heaven on earth, if you'd like to see the Kingdom of God come in your own life. Then this book is a great place to start."
—Jonathan Storment, minister, Highland Church of Christ
"For those wearied by Christian traditions that have long emphasized the afterlife as this one's ultimate goal, "realize the good life now" will ring as a welcome edition of proclamation concerning Christian discipleship. Seidman's and Graves' rendering of that proclamation in Heaven On Earth is far more than another marketing pitch of Christianity to contemporary audiences. Rather, theirs is a prophetic word inviting believers and curious bystanders to re-engage the gospel of Jesus Christ as good news for the world here and now. This reminder that heaven is invading earth, and that we are invited to usher in its arrival, has never seemed more timely."
—Lauren Smelser White, Ph.D candidate in Theological Studies, Vanderbilt University
"Josh Graves and Chris Seidman combine their rare and considerable skills resulting in an amazing book. Not just another treatment of the opening section of arguably the most famous sermon in history, Heaven on Earth opens the reader's heart to an authentic, practical experience of bringing heaven to earth! Readers will never be able to regard the 'beatitudes' as commonplace again. If you're longing for direction, guidance and a reminder of the richness of the life God envisions for you, don't wait another minute, dive in to Heaven on Earth and experience lasting renewal in the here and now."
—Larry James, President/CEO, CitySquare
"Heaven on Earth is a great read to help us get past the idea that Christians are living for something that will be real after we die. I suggest we consider replacing "Are you ready to die?" with "Are you ready to live?" as a lead question for evangelism. This book explains why with a very practical eloquence.
—Rubel Shelly, President of Rochester College (MI) and author of I Knew Jesus Before He Was a Christian
"Chris Seidman and Joshua Graves have written a brilliant book that dives into the most important words ever spoken in the history of the world—the Beatitudes in Christ's preeminent Sermon on the Mount. It's no coincidence that the first word in the Beatitudes is the word 'blessed.' You will not only be blessed by reading Heaven on Earth, but you will also learn that experiencing a blessed life—before the grave—is truly possible in light of God's amazing plan to redeem mankind here and now."
—Dudley Rutherford, author of God Has an App for That!
12/1/2012 5:00:00 AM