Now Featured at the Patheos Book Club
Resurrection Year
Turning Broken Dreams Into New Beginnings
By Sheridan Voysey
"Perhaps a greater tragedy than a broken dream is a life forever defined by it." - Sheridan Voysey
In Resurrection Year: Turning Broken Dreams into New Beginnings,Sheridan Voysey details how he and his wife Merryn reached the heart-wrenching conclusion that their dream of having a child is over. But their lives are not. Voysey shares how they embraced their broken dream as a chance for a new beginning and proves how a "Resurrection Year" can restore anyone's soul.
Voysey was slowly watching Merryn wither away. Ten years of pregnancy tests and vitamins, adoption meetings and IVF treatments, dashed dreams and unmet expectations had taken a toll on her. His heart was broken, too.
Yet over the same ten years they struggled to have a family, Voysey had it all professionally. He worked tirelessly to build his professional platform in Australia - a nationally renowned radio show, award winning books, and speaking engagements to full, enthusiastic crowds.
But in March 2011, he walked away. As the final IVF treatment failed after the hope of a false positive, he knew it was time for a new beginning for them both. "Live overseas. Take a risk. Have an adventure," said Merryn. Other than being a mother, those were the only things she had ever requested. Voysey chronicles this mantra in their return to life. From the streets of Rome to the Basilicas of Paris, from the Alps of Switzerland to their new home in Oxford, they begin the healing process while wrestling with their doubts about God's goodness.
One part spiritual memoir and one part love story, Resurrection Year is an honest look at recovering from broken dreams and reconciling with and holding on to a God who is sometimes silent but never absent. Voysey provides an empathetic voice to all those who experience a dream denied, whether that is childlessness, unwanted singleness, or the loss of a career or loved one.
About the Author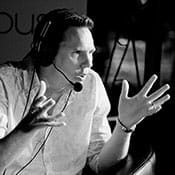 Sheridan Voysey is a writer, speaker and broadcaster on contemporary spirituality. His study of society, culture, Scripture and religious movements, plus the insights gained from his 2000-plus radio interviews, has led to two core convictions: that human beings innately long for God and that God walks beside us incognito.
This has led to a mission best described by the words of Saint Augustine: 'Our whole business in this life is to heal the eyes of the heart so that God might be seen.'
Sheridan is the author of four popular books: the award-winning book Unseen Footprints: Encountering the Divine Along the Journey of Life (named 2006 Christian Book of the Year by the Australian Christian Literature Society), Open House Volume 1: Sheridan Voysey in Conversation, Open House Volume 2 and Volume 3.
Sheridan is a columnist for Our Daily Journey, and has been published in numerous other media including Christianity, Alive and Signs magazines, ABC Religion and Ethics Online and Discipleship Journal. This year he was one of six feature writers for NT Wright's BigRead12 event.
Sheridan is the creator and former host of Open House: a live, nationally-networked radio show exploring life, faith and culture. In his 18 years as a broadcaster Sheridan has interviewed some of the world's most prominent authors, artists, activists, politicians, poets, philosophers, theologians and musicians—everyone from Max Lucado to Thomas Keneally, Gloria Gaynor to Jeffrey Sachs. In five short years Open House gathered an audience of over 100,000 listeners, released a series of best-selling books, produced a Top-10 iTunes podcast on Religion and Spirituality, and carved out a unique place in Australian broadcasting, engaging Muslims, atheists and new-agers alongside Christians of all varieties.
Sheridan is also the former director of Compassion Day-a national radio event releasing children from poverty through child sponsorship. During his tenure, Compassion Day became one of Compassion Australia's most successful events, seeing over 1500 children sponsored in a single day.
Sheridan is a popular speaker at conferences and events. His specialty is helping audiences understand their innate longing for God and open their eyes to see God's presence around them. He also speaks on communication and creativity in professional settings.
7/1/2013 4:00:00 AM