Now Featured at the Patheos Book Club
The Secrets of Leaven
By Todd Wynward
A zealous preacher bent on destroying the bones of Jesus' brother.
A lost ancestor trapped in an insane asylum, holding the key to happiness.
A wild-haired prophet living in the Cave of John the Baptist.
Are these the normal associates of a sheltered California boy?
They are if you're Thomas Whidman, a seminarian who no longer believes in God.
30-year-old Thomas Whidman has life where he wants it: a fascinating new girlfriend, a scholarship for excellence in ancient Greek, and a year left in seminary before a bright future as a progressive pastor.
But life has other plans. Soon dark questions plague Thomas that can't be explained by the religion he's grown up with. A horrible tragedy in Guatemala makes Thomas doubt a loving God, and his faith in family crumbles when he discovers his trusted uncle has been hiding a disturbing ancestor for years.
Confused and despairing, Thomas is catapulted into a new reality when he encounters the Society of Leaven, an ancient sect of Jesus-loving radicals who've been subverting Empire and making holy mischief for two thousand years. Trusting his guide Paloma—a Zen meditation teacher who is far more than he seems --Thomas falls in deeply with these desert hermits, savvy ex-cons and joyful anarchists, all irresistible revolutionaries who practice a Way he never heard about in Sunday School.
About the Author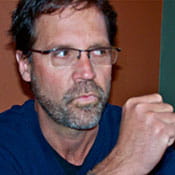 TODD WYNWARD is only a part-time religious zealot. When he is not attempting to re-imagine Christianity, Wynward finds himself re-framing public education and re-envisioning the American way of life, starting with his own. He has been engaged in experiential education and social change movements for twenty years. He is the founder of a wilderness-based public charter school, leads backpacking and river trips for adult seekers, and is an animating force behind TiLT, an emerging intentional co-housing community in Taos, NM.
5/1/2013 4:00:00 AM