"It was always our intention that our site would be The Resource for finding out what's happening with New Evangelization. We've mostly been doing opinion pieces and meditations, but New Evangelizers is also a place for the person who wants to follow news. I'm actually looking for someone to do this—to cull through everything being published and printed about New Evangelization, and let people know what is being said at the Vatican and throughout the Catholic world.
"You know, it's about what's going on, but we're also motivated by what other people are doing. We'd like to produce more content for various apostolates. Maybe not 'That Catholic Show,' but something similar."
:::page break:::
When I tell him I love the macho logo for New Evangelizers, he is ebullient. "A wonderful guy named Dan Gonzales, a professional graphic designer, created it. Dan has also been someone who has long supported our various initiatives. I have a graphic design background as well, but couldn't get what was in my brain on paper, so I asked Dan to take a stab. What he came up with went way beyond anything I had in my head. There are several hidden elements: the Eucharistic host, the ichthyic fish, the shaft of wheat! 'The harvest is abundant but the laborers are few' (Lk. 10:2)—which is what we in all our various ministries are trying to focus on. Dan knocked it out of the park.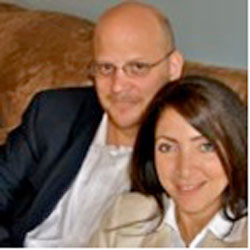 "In the past, I've done every single graphic design and all the website development for everything else we did. This was the first time I had to ask for help and turn it over to someone more experienced than me. I brought in Bryan Murdaugh, the owner of fiveable.com, to build the site. He gave each of the six apostolates a similar look and feel, similar navigation, all the same types of headers on all the pages. Dan did all the graphics, and Bryan did the technical elements. This is the first time I've met people who got inside my brain and pulled what was in it out. We did it together in six months. It was great. You know, when you work with rock stars in graphics and website design, suddenly you're not as good as you thought you were!"
Asked about the goal of this latest effort, he says, "Honestly, my biggest goal is what our motto is for New Evangelizers. I want people to know their faith better, live their faith more fully, and share their faith more effectively. We can't say 'Boom! We've reached our goal!' As Catholics, every single one of us can be doing a better job. I need to be re-evangelized myself. I'm in a constant process of being evangelized, and I should be living out my faith based on my knowledge of that.
"The idea of being a New Evangelizer is that I think most Catholics are afraid of evangelizing. Even I am, to some extent. My next-door neighbor has lived there thirteen years and I've never invited him to a Mass with me. We think we don't know our faith well enough to share it with someone else. We worry that maybe I'm going to burn a bridge if I were to share my faith.
"The Year of Faith is quickly approaching. We've got the Synod of Bishops in October. These are tremendous opportunities to learn from each other. But there's a clarion call being lifted up. We're being given an opportunity to be modern-day evangelists, apostles, and we can be successful at evangelizing if we are constantly doing those three things: educating ourselves, being open to the Holy Spirit, and being willing to dive more deeply into our faith and live it more fully.
"That's what we hope to do with our website. To let people know you're not on your own. And if you're not comfortable evangelizing, here's some stuff to give away that will make it easier for you to put away any roadblocks.
And let's get to work!"
Many thanks to Greg for a great interview. Go check out the site!
I'll be on vacation until September. God bless you!
7/31/2012 4:00:00 AM