Now Featured in the Patheos Movie Club
LAST DAYS IN THE DESERT
From Broad Green Pictures
A Mockingbird Pictures and Division Films Production
Written and Directed by Rodrigo García
About the Film
On his way out of the wilderness, after weeks of subsisting on only water and prayer, a holy man (Ewan McGregor) struggles with the Devil (also McGregor) over the fate of an ordinary family in crisis, setting for himself a dramatic test with distinctly human conflicts.
In his audaciously rendered character study, writer/director Rodrigo García (Cannes Un Certain Regard Winner for Things You Can Tell Just by Looking at Her, Emmy nominee for Big Love) follows Jesus in an imagined chapter from his 40 days of fasting and praying in the desert. Last Days in the Desert, which made its debut at the 2015 Sundance Film Festival earlier this year, stars Ewan McGregor, Tye Sheridan, Ciaran Hinds and Ayelet Zurer. The critically acclaimed film also reunites García and cinematographer Emmanuel "Chivo" Lubezki (Oscar-winner for both Birdman or (The Unexpected Virtue of Ignorance) and Gravity), who collaborated with García on Things You Can Tell Just by Looking at Her.
García is also joined by such sterling film artisans as four-time Academy Award-nominated production designer Jeannine Oppewall; three-time Oscar-nominee, costume designer Judianna Makovsky; editor Matt Maddox, also a previous collaborator with García; and Genie Award-winning composers Danny Bensi and Saunder Jurriaans. Both written and directed by García, Last Days in the Desert is produced by Julie Lynn and Bonnie Curtis, and Wicks Walker.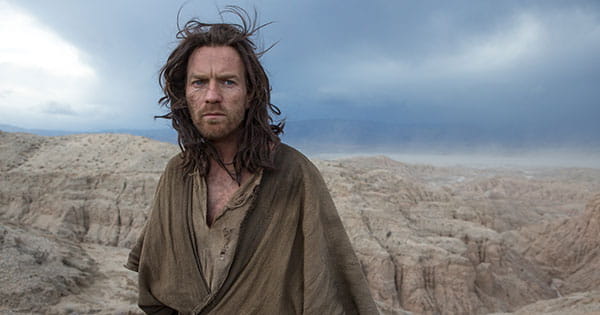 ©Broad Green Pictures
About the Production
To prepare for his mission,
the holy man went into the desert to fast and pray,
and to seek guidance.
"I'm taking the figure of Jesus and exploring the human dimension of his life," award-winning writer/directed Rodrigo García explains. "I cannot know what the divine side feels like, so I decided to treat Jesus, his predicaments and his problems the same way I would treat a regular person."
Last Days in the Desert marks a radical shift from García's previous projects, including Mother and Child, Nine Lives and the HBO series "In Treatment." "Most of the movies I have written are about middle-class women and their problems, so this film is decidedly a departure for me," he says.
Though García had never set a story in ancient times, the fictional encounter between Jesus and a family in crisis popped into his head as a fully-formed premise. "I grew up in a Catholic world and, of course, I'm familiar with the story of Jesus," he says.
"But in this, Jesus is returning from meditating in the desert for 40 days and nights, and on his way back to Galilee, he runs into a family and gets embroiled in their domestic drama," García continues. "The mother is dying. The father wants the son to stay with him in the desert even after the mother's death, but the boy wants to leave and make his way in the world. So Jesus decides to delay his return and help."
As García fleshed out the family dynamics at the heart of the film, he decided to raise the stakes by adding one additional character: the Devil. "In the Bible, it says the Devil tempted and challenged Jesus during his weeks in the desert," García says. "I chose to make the Devil appear to Jesus in his own guise, and he questions his ability and makes a wager with him — to solve the problem of this family to everyone's satisfaction. That's when I knew I had enough elements to start writing a script.
4/28/2016 4:00:00 AM