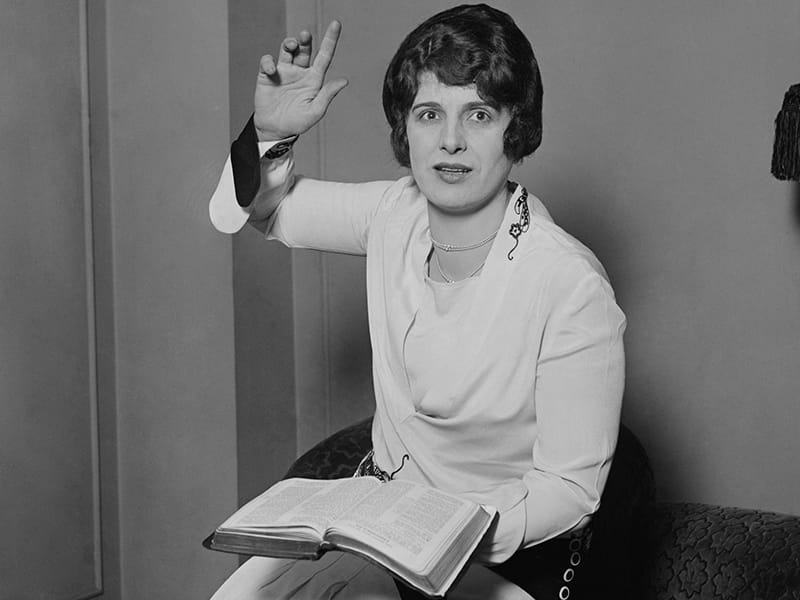 Image source: Shutterstock.com
Faith:

Christianity

Profession:

preacher

Lived:

October 9, 1890 - September 27, 1944 (Modern Era)

Nationality:

American (born in Canada)

Known for:

Started first megachurch and helped lay groundwork for modern Charismatic Christianity

Fun Fact:

Fun Fact:

Fun Fact:
In her time, Aimee Semple McPherson was the most popular evangelical preacher in America. She was one of the first to use radio, and in 1923 became the first megachurch pastor when she opened a facility in Los Angeles that seated 5,300 and is still operational today. Her conversion to Pentecostalism occurred early in the movement and was followed by years of highly successful tent revival tours all over the country. Once settled in Los Angeles and on radio, Sister Aimee introduced a national audience to Pentecostalism and faith healing, inviting some of the movement's prominent African-American leaders to preach at her church.
McPherson was raised in the Salvation Army, and for a time worked for the organization along with her mother. She first encountered Pentecostalism while still in high school when it first swept through North America and she fell in love with a travelling preacher. They married when she was 18 and moved to Chicago in 1908, where they joined an early Pentecostal church, led by William Durham, a Holiness preacher who'd visited the Azusa Street Revival in Los Angeles. There she discovered her gift for preaching and interpreting speaking in tongues. But that year on a mission trip in China, they both contracted malaria and her husband died. After trying for a few years to live a domestic life with a second husband, one day McPherson left him a note and hit the road as an itinerant preacher.
Leading tent revivals around the U.S. and Canada, McPherson gradually developed her distinct, accessible approach, seeking to temper the uncontrolled nature of a Pentecostal revival without losing its energy. She also became known as an effective faith healer, which contributed to the popularity of her events. The media started noticing and McPherson's later revival tours were among the most popular traveling shows in American history. While in Los Angeles for a series of events in 1918, McPherson decided to stay, believing it was emerging as a central location of travel and media. There she built the first megachurch, the Angelus Temple, "Dedicated unto the Cause of Inter-denominational and World Wide Evangelism." Taking advantage of this prominent stage, McPherson invited guest preachers from across the denominational range, and led high-profile charity efforts. She believed in using entertainment devices to reach more people with her message, and drew on her experience putting on revivals and flair for the theatrical. Her Sunday services employed a full technical crew and live orchestra, and sometimes included actors and animals. In addition to the megachurch and radio station, she had a weekly newsletter and monthly magazine, and began planting Foursquare Churches in other cities.
It was at the peak of her popularity in 1926 that McPherson disappeared one day, reappearing five weeks later on the Arizona-Mexico border, claiming somewhat implausibly that she'd been kidnapped. Rumors swirled that her disappearance had really been caused by an impulsive brief affair with a male colleague, and against the counsel of her mother who expected the gossip would die down if ignored, McPherson decided to take things to court. The inquiry quickly shifted from proving the kidnapping to proving it was a hoax, and McPherson was on the defensive and facing possible jail time. The case was dismissed, but not before nine months of negative media.
McPherson was more famous than ever, but she was no longer a media darling. And her troubles were deepened by conflict with leadership of her church, especially her mother, who had always handled most of the business side of her operations. McPherson remarried, and went back on the road for a series of big appearances in cities around the country. While attendance and reception were mixed, there were plenty of successes. In 1935, she toured the world, meeting Gandhi.
During the Depression, McPherson focused on charity, with a commissary and free clinic aiding both locals and non-citizen migrant workers. Her personal lifestyle gravitated more towards the Hollywood elite, whom she tapped for her charity projects regularly. It's reported that at the peak of the Depression, she was helping more people than any other charity in Los Angeles. This work transitioned into various war drives. In 1943, while on the road for a revival, McPherson died in her hotel room of an accidental overdose.
It's hard to overstate Aimee Semple McPherson's influence. She helped legitimize Pentecostalism in the public's eye, while also helping members of that movement learn to work with other denominations. She introduced innovations to church broadcasting that helped popularize the format. She promoted integration and used her clout to lift up African-American preachers. And more than anything, by blending her Salvation Army upbringing, Pentecostalism's focus on the Holy Spirit, and the theatrics of revivals and Hollywood, she helped lay the groundwork for the Charismatic Movement that exploded in the decades that followed.
Back to Search Results