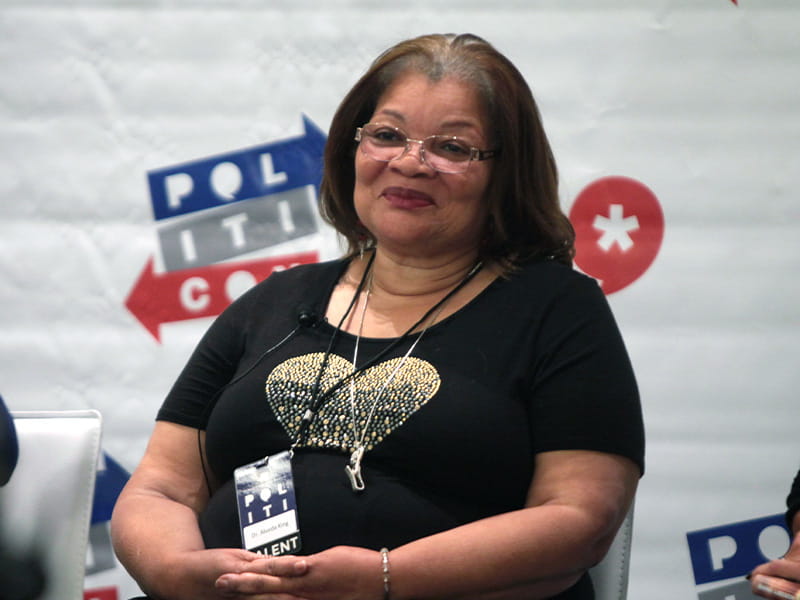 Image source: Gage Skidmore/WikiMedia
Faith:

Christianity

Profession:

Minister, professor, author, and Director of African American Outreach for Gospel of Life

Lived:

January 22, 1951- Present (Modern Era)

Nationality:

American

Known for:

Dr. Alveda King is the niece of Civil Rights leader Martin Luther King Jr. and the daughter of civil rights activist A.D. King

Fun Fact:

Dr. Alveda King is an accomplished actress and songwriter.

Fun Fact:

King is one of the founding members of the National Black Pro-Life Coalition.

Fun Fact:
Dr. Alveda King is an American activist and former state representative in the Georgia House of Representatives. She was born in Atlanta, the first of five children of A.D. King, who was the younger brother of Martin Luther King Jr. She is the oldest out of five children and spent a majority of her childhood in the midst of the Civil Rights Movement. During the movement, her family's home was bombed in Birmingham Alabama. She was also jailed during the open housing movement. King has dedicated her life to being a civil rights activist, and she continues to speak out on issues society faces. She studied journalism and sociology at Central Michigan University, where she also received a master's in business management. She is a minister of the Gospel of Jesus Christ and consults with the Africa Humanitarian Christian Fellowship. King notes her purpose as glorifying God on earth by accomplishing many goals. She has served on boards and committees of numerous organizations and taught as a college professor. King is also a pro-life activist and director of the Civil Rights for the unborn activist group.
Back to Search Results