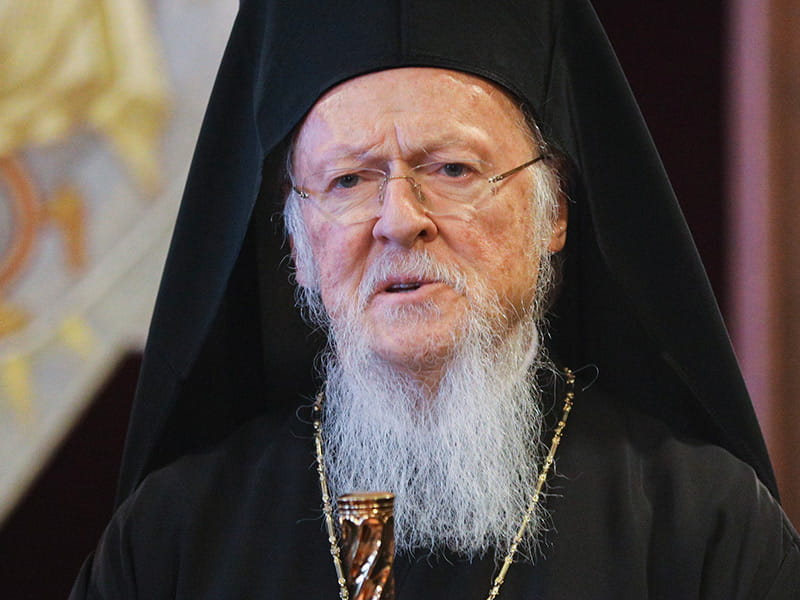 Image source: Administration of the President of Ukraine
Faith:

Christianity

Profession:

Archbishop of Constantinople

Lived:

1940 -

Nationality:

Turkish

Known for:

Ecumenical Patriarch

Fun Fact:

Bartholomew I is known as "The Green Patriarch."

Fun Fact:

Bartholomew I was the target of an assassination plot in 2013.

Fun Fact:
Bartholomew I is the 270th and current archbishop of Constantinople and Ecumenical Patriarch since November of 1991. Under his title, he is regarded as the primus inter pares, or first among equals, in the Eastern Orthodox Church and as the spiritual leader of the Eastern Orthodox Christians worldwide.
Early Life
Bartholomew I was born as Dimitrios Arhondonis on February 29, 1940, in the village of Agios Theodoros on the island of Imbros to Christos and Meropi Archodónis. After his graduation, he held a position at the Patriarchal Theological Seminary of Halki, where he was ordained a priest. Later, he served as Metropolitan of Philadelphia and Chalcedon, and he became a member of the Holy Synod and other committees before his enthronement as an ecumenical patriarch.
Bartholomew's Tenure
Bartholomew's tenure has been characterized by intra-Orthodox cooperation, intra-Christian and inter-religious dialogue, and formal visits to Roman Catholic, Old Catholic, Orthodox and Muslim leaders rarely previously visited by an ecumenical patriarch. He has exchanged numerous invitations with the church and state dignitaries. His efforts to promote religious freedom and human rights, his initiatives to advance religious tolerance among the world's religions, as well as his efforts to promote ecology have been widely noted, and these endeavors have earned him the title "The Green Patriarch."
Among his many international positions, he currently sits on the Board of World Religious Leaders for the Elijah Interfaith Institute. In 2018 the Moscow Patriarchate broke communion with the Ecumenical Patriarchate due to disputes over his decision to grant autocephaly to the Orthodox Church of Ukraine.
As an ecumenical patriarch, he has been particularly active internationally. One of his first focuses has been on rebuilding the once-persecuted Eastern Orthodox churches of the former Eastern Bloc after the fall of Communism there in 1990. As part of this effort, he has strengthened ties among the various national churches and patriarchates of the Eastern Orthodox Church. He has also continued the reconciliation dialogue with the Roman Catholic Church started by his predecessors and initiated dialogue with other faiths, including other Christian Churches, Muslims, and Jews.
Possession of Vatican St. Peter's Bone Fragments
On July 2, 2019, there was an announcement stating that Pope Francis had given Ecumenical Patriarch Bartholomew possession of nine bone fragments believed to belong to St. Peter and which were publicly displayed by Pope Francis in November 2013 during a Vatican 'Year of Faith' Mass. Bartholomew, who also gained possession of the bronze shrine in which they are displayed, described the Pope's gesture as "brave and bold.
Assassination Attempt
Bartholomew I was the target of an assassination plot planned to take place on May 29, 2013. Authorities arrested one suspect, and there is an ongoing search for two others. State prosecutors in central Kayseri province received an anonymous letter saying there was a plan to assassinate Bartholomew on May 29, the anniversary of the Ottoman conquest of present-day Istanbul.
Back to Search Results