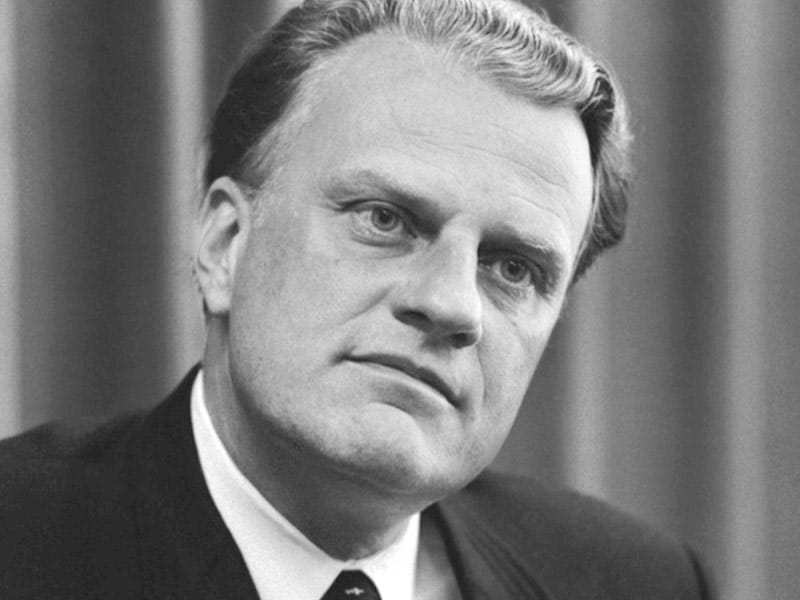 Image source: Public Domain
Faith:

Christianity

Profession:

Preacher, Spiritual Advisor, Writer

Lived:

November 7, 1918–February 21, 2018 (Modern Era)

Nationality:

American

Known for:

Spiritual advisor to several presidents, famous and successful evangelist said to have preached the Gospel to more people than anyone in history

Fun Fact:

He was a spiritual advisor for every president from Harry S. Truman to Barack Obama.

Fun Fact:

Graham insisted on racial integration at his revivals and crusades after 1953.

Fun Fact:
William Franklin Graham, Jr. was born in November 1918 and became a national and international superstar in the 1940's. He held large indoor and outdoor rallies that were famous for calling people to "accept Jesus Christ as their personal savior." More than 3.2 million people accepted that call at his Crusades. His estimated lifetime audience was measured in the billions and one 1996 TV broadcast alone may have reached 2.5 billion people. He preached to live audiences of more than 210 million people across 185 countries, hosted radio adn TV shows and has consistently been on Gallup's list of most admired men and women. He has been listed 61 times, more than anyone else in history. It is believed that he preached the Gospel to more people than any other person in Christian history.
Back to Search Results