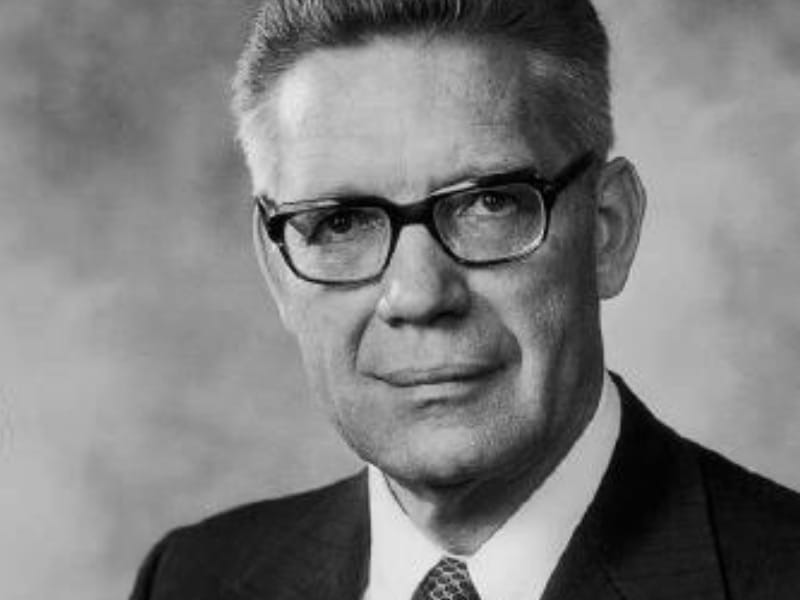 Image source: Public Domain
Faith:

The Church of Jesus Christ of Latter-day Saints

Profession:

Apostle

Lived:

1915 - 1985

Nationality:

American

Known for:

LDS Church Apostle

Fun Fact:

Bruce and his wife Amelia had nine children.

Fun Fact:

Bruce graduated high school at 15.

Fun Fact:
Bruce Redd McConkie was a member of the Quorum of the Twelve Apostles of The Church of Jesus Christ of Latter-day Saints from 1972 until his death. McConkie was a member of the First Council of the Seventy of the LDS Church until his calling to the Quorum of the Twelve Apostles. During his service as a general authority, McConkie published several doctrinal books and articles and wrote the chapter headings of the LDS Church's 1979–81 editions of the standard works.
Early Life and Education
In Ann Arbor, Michigan, McConkie was born to Oscar Walter McConkie and Margaret Vivian Redd. Before he was a year old, his family moved to Monticello, Utah. In 1925, his family moved back to Ann Arbor, where his father continued studying law, and in 1926 they moved to Salt Lake City, Utah. McConkie attended Bryant Junior High School and LDS High School, graduating at 15. He attended three years of college at the University of Utah before serving a church mission, receiving a Bachelor of Arts and Juris Doctor from the University of Utah. McConkie worked as an assistant city attorney in Salt Lake City after his graduation.
McConkie met Amelia Smith, daughter of Joseph Fielding Smith, before his mission while attending the University of Utah. He and Amelia graduated there in June 1937. They were married in the Salt Lake Temple by Amelia's father on October 13, 1937. Together, they had nine children: Bruce, Vivian, Joseph, Stanford, Mary, Mark, Rebecca, Stephen, and Sara. Bruce lived less than two months.
Call to the Seventy
McConkie worked for a time as a reporter for the Deseret News. While covering the LDS general conference proceedings on October 6, 1946, McConkie was interviewed by apostle David O. McKay to fill a vacancy in the First Council of the Seventy created by John H. Taylor's death. McConkie's name was presented for a sustaining vote by the church's membership that same day. On October 10, he was ordained and set apart by George Albert Smith. He served as a member of the First Council of the Seventy for 26 years.
On June 11, 1961, McConkie was ordained a high priest by Henry D. Moyle of the church's First Presidency. This move was necessary because of a new policy requiring the First Seven Presidents of Seventy to assist the Quorum of the Twelve Apostles in setting apart stake presidents, stake high councilors, and bishops.
Mormon Doctrine
In 1958, McConkie published a book,
Mormon Doctrine: A Compendium of the Gospel,
which he described as "the first major attempt to digest, explain, and analyze all of the important doctrines of the kingdom" and "the first extensive compendium of the whole gospel—the first attempt to publish an encyclopedic commentary covering the whole field of revealed religion." He included a disclaimer that he alone was responsible for the doctrinal and scriptural interpretations, a practice that was then unusual.
McConkie relied heavily upon the church's standard works and recognized doctrinal authorities in writing the book. Church leaders were surprised by its publication since he had not asked permission and was not asked to develop such a work, and they responded that while they applauded the attempt of the book to fill a need, it used a harsh tone. Apostle Mark E. Petersen called it "full of errors and misstatements, and it is most unfortunate that it has received such wide circulation." Church President David O. McKay asked McConkie not to reprint it, but later, McConkie was asked to revise it with the editorial help of Spencer W. Kimball. The 1966 second edition incorporated many changes, such as softening the tone.
Death
McConkie gave many general conference addresses, and his last was in April 1985, called "The Purifying Power of Gethsemane. Less than two weeks after that address, McConkie died in Salt Lake City at 69. He's buried at Salt Lake City Cemetery.
Back to Search Results