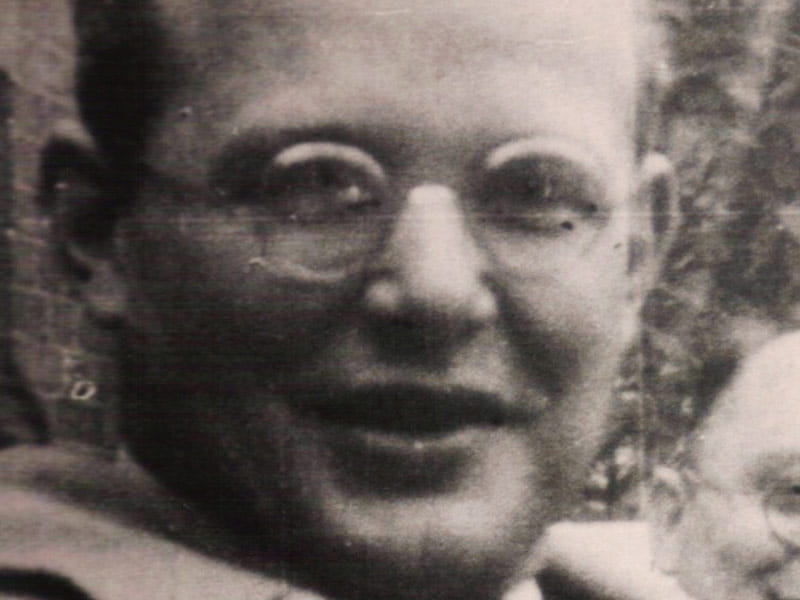 Image source: Wissen911 / wikimedia.org
Faith:

Christianity

Profession:

Lived:

1906 - 1945 (Modern Era)

Nationality:

German (now Poland)

Known for:

Helped lead some of the Lutheran Church in Germany in resistance of the Nazis, and was executed by them.

Fun Fact:

Fun Fact:

Fun Fact:
Dietrich Bonhoeffer was executed by the Nazis in the final days of World War II. Fourteen years earlier, in 1931, he had been a rising star in German Lutheranism. Ordained at 25 and a lecturer at the University of Berlin, he was a youth secretary of what would become the World Council of Churches. In the previous year, he had been lecturing and doing post-doctoral studies at Union Theological Seminary in New York City, where he took classes by Reinhold Niebuhr. His father was a renowned psychiatrist and maternal great grandfather was a famous theologian. There were high expectations for him and all his siblings. Within the German Lutheran Church however, a nationalistic movement aligned with the Nazis was gaining power, and Bonhoeffer and his family fought against both. Two days after Hitler became chancellor of Germany in 1933, Bonhoeffer was already scheduled to give a spiritual address on the radio. He took the opportunity to warn the German people of the danger of falling for a seductive leader and called it idolatry. His broadcast was cut off in mid-sentence and thus began his open opposition to Nazism, standing against both Hitler and state church's complicity. When the Church adopted restrictions insisted upon by the young Nazi sympathizers, a quarter to a third of German Lutheran pastors joined an alternate organization, which eventually became known as the Confessing Church. After spending several years in England, trying to drum up global support and concern for the German resistance, Bonhoeffer returned to Germany to lead the underground seminary training pastors for the Confessing Church. For several years, until the Nazis shut it down in 1937, Bonhoeffer lived in this underground community. Out of this experience came the two books for which he's best known: "Life Together," which is specifically about communal Christian life but contains great insights about the nature of people in groups; and "The Cost of Discipleship," an exploration of the Sermon on the Mount. He is perhaps best known for the phrase and concept of "cheap grace" (though Bonhoeffer heard the phrase from Adam Clayton Powell at Abyssinian Baptist Church in New York when he was at Union). Cheap grace, says Bonhoeffer, is grace without the Cross, grace without discipleship, where only salvation and relief from burdens are preached, and repentance and discipline are not demanded.
Though he was in direct opposition to the Nazis, Bonhoeffer was a public figure and was allowed some deference. When they had shut down his seminary, he was allowed to leave Germany once again to travel to the United States. He soon decided, however, that he must return to Germany and be with his people. Once back in Germany, Bonhoeffer assisted the German Resistance through family connections, using his role as an ecumenical religious figure to carry secret communications to other countries. After about two years, Bonhoeffer was arrested, along with others involved in the resistance, and after two years in prison, he was executed in 1945, just two weeks before the Allied forces arrived.
While Bonhoeffer's sacrifice has been an inspiration for resistance movements including the civil rights movement, at the time he considered his turning away from pure pacifism to try to stop Hitler as a guilt-inducing act, though necessary for the sake of future generations, one for which only God's grace could absolve him.
Back to Search Results