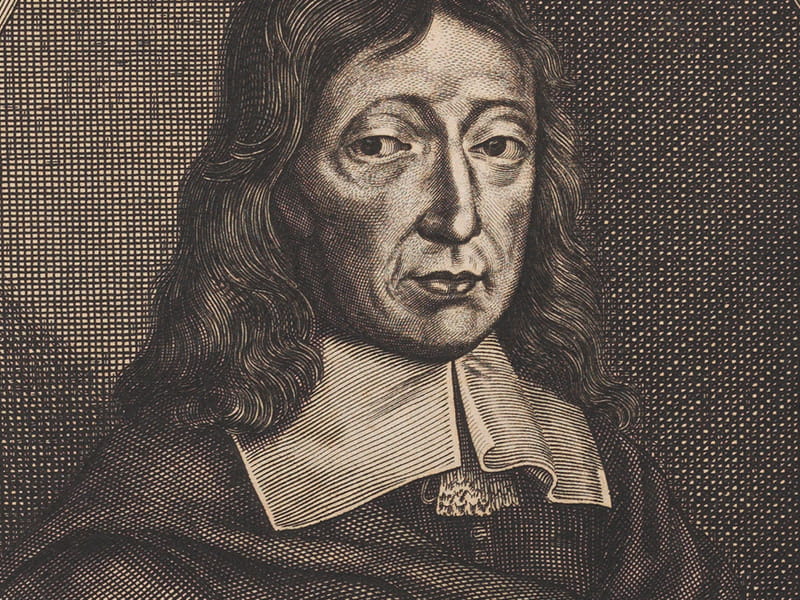 Image source: Public Domain
Faith:

Christianity

Profession:

Writer/Philosopher

Lived:

1608-1674

Nationality:

American

Known for:

Poetry

Fun Fact:

John Milton wrote in three different languages.

Fun Fact:

His poem, "Paradise Lost," is widely considered to be one of the greatest works of literature ever written.

Fun Fact:
John Milton was an English poet and intellectual who served as a civil servant for the Commonwealth of England under its Council of State and later under Oliver Cromwell. He wrote at a time of religious flux and political upheaval and is best known for his epic poem "Paradise Lost." Written in blank verse, critics believe "Paradise Lost" is one of the greatest works of literature ever written.
Milton wrote in English, Italian, and Latin, achieving international renown in his lifetime. His celebrated Areopagiticia, written in condemnation of prepublication censorship, is among history's most influential and dynamic defenses of freedom of speech and press freedom. His desire for freedom extended into his style. He introduced new words to the English language and was the first modern writer to employ unrhymed verse outside the theatre.
Early Life
John Milton was born in Bread Street, London, on December 9, 1608, the son of composer John Milton Sr. and his wife, Sarah Jeffrey. John Milton Sr. moved to London around 1583 after being disinherited by his devout Catholic father for embracing Protestantism in London. Milton attended St Paul's School in London. He started the study of Latin and Greek, and the classical languages left an imprint on both his poetry and prose in English. Milton's first datable compositions are two psalms done at age 15 at Long Bennington. In 1625, Milton started attending Christ's College in Cambridge. He graduated with a B.A. in 1629, ranking fourth of 24 honors graduates in the University of Cambridge. Preparing to become an Anglican priest, Milton stayed on and acquired his Master of Arts degree on July 3, 1632.
Travel and Poetry
Upon receiving his M.A. in 1632, Milton retired to Hammersmith, his father's new home. He also lived at Horton, Berkshire, from 1635 and undertook six years of self-directed private study. Milton continued to write poetry during this study period. His "Arcades" and "Comus" were both commissioned for masques composed for noble patrons, connections of the Egerton family, and performed in 1632 and 1634, respectively. "Comus" argues for the virtuousness of abstinence and purity. He contributed his pastoral speech "Lycidas" to a memorial collection for one of his fellow students at Cambridge.
In May 1638, Milton embarked upon a tour of France and Italy that lasted until July or August 1639. His travels accompanied his study with new and direct experience of artistic and religious traditions, especially Roman Catholicism. He met famous theorists and intellectuals of the time and displayed his poetic skills. On returning to England, where the Bishops' Wars foreshadowed further armed conflict, Milton began to write prose tracts against episcopacy in the Puritan and Parliamentary cause service.
Milton's first venture into discourses was "Of Reformation touching Church Discipline in England" (1641), followed by "Of Prelatical Episcopacy," the two defenses of Smectymnuus, a group of Presbyterian divines named from their initials, and "The Reason of Church-Government Urged against Prelaty." He vigorously attacked the High-church party of the Church of England and their leader William Laud, Archbishop of Canterbury, with frequent passages of natural eloquence lighting up the rough controversial style of the period and deploying a vast knowledge of church history.
The Restoration
Upon the Restoration in May 1660, Milton went into hiding, fearing for his life. A warrant was issued for his arrest, and his writings were burnt. He re-emerged after a general pardon was issued but was arrested and briefly imprisoned before influential friends intervened, such as Marvell, now an MP. Milton married for a third and final time on February 24, 1663, marrying Elizabeth (Betty) Minshull, aged 24, native of Wistaston, Cheshire. He spent the remaining decade of his life living quietly in London, only retiring to a cottage during the Great Plague of London, Milton's Cottage in Chalfont St. Giles, his only extant home. Milton died on November 8, 1674, and was buried in the church of St Giles-without-Cripplegate, Fore Street, London. Sources differ as to whether the cause of death was consumption or gout.
Back to Search Results