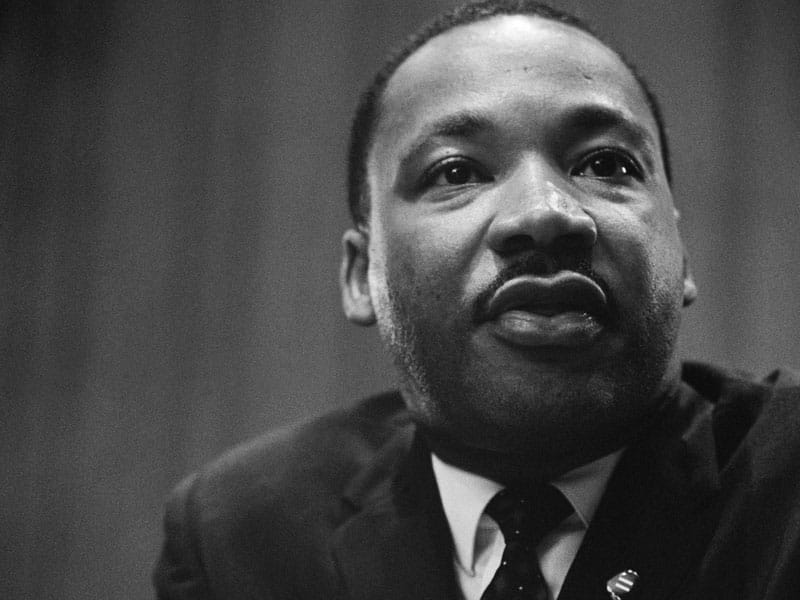 Image source: Public Domain
Faith:

Christianity

Profession:

Minister

Lived:

January 15, 1929 - April 4, 1968 (Modern Era)

Nationality:

American

Known for:

Early leader of the Civil Rights Movement

Fun Fact:

With a shortage of students due to the war, Morehouse College offered enrollment to high school juniors and seniors who could pass an exam, which King did at 15, and entered college.

Fun Fact:

Both father and son King were named Michael until the senior, on a trip to a Baptist convention in Germany, learned more about Martin Luther, and decided to change both his and his son's names.

Fun Fact:
Martin Luther King, Jr. was a PK—a preacher's kid. His father was pastor of Ebenezer Baptist Church (where Junior would eventually preach as well) and head of the local NAACP chapter in Atlanta, Georgia. When King was a junior in high school, with a shortage of students due to the war, Morehouse College offered early enrollment to high schoolers who could pass an exam, which King did at 15, and entered college.
While the civil rights movement had begun long before, no one is associated with it like Martin Luther King, Jr. In 1955, two years after his marriage and one year after his call as pastor to a Montgomery, Alabama church, King was on a local committee that decided to challenge the Jim Crow segregation laws. They chose the case of Rosa Parks, an African-American woman who had decided not to give up her seat to a white man and been arrested. King led a boycott of the city's buses, which lasted over a year and resulted in a federal court ruling against the bus segregation. Now with a national stage, in 1957, King co-founded and acted as president of the Southern Christian Leadership Conference and became the best-known figure in the civil rights movement. King studied the tactics of Gandhi in India—who himself had been influenced by Christian anarchist Leo Tolstoy's "The Kingdom of God Is Within You." King believed the movement could use organized nonviolent protests against segregation to change public sentiment in the country, through actions consistent with what he called Jesus' "extremist" love. This placed him at odds with some civil rights leaders who wanted to retain the option of violence. Marches and sit-ins took place in Birmingham, Selma, and elsewhere, most famously, the March on Washington in which King gave his "I Have a Dream" speech. Results were mixed during the Kennedy administration, and though Kennedy backed the Civil Rights Act, his FBI treated King as a potential threat and began wiretapping him. After Kennedy's assassination, Lyndon Johnson moved more aggressively, culminating eventually in passage of the Civil Rights, Voting Rights and Fair Housing Acts.
On April 3, 1968, King gave a speech while in Memphis, Tennessee, to organize striking workers, in which he said: "Like anybody, I would like to live a long life. Longevity has its place. But I'm not concerned about that now. I just want to do God's will. And He's allowed me to go up to the mountain. And I've looked over. And I've seen the promised land. I may not get there with you. But I want you to know tonight, that we, as a people, will get to the promised land. So I'm happy, tonight. I'm not worried about anything. I'm not fearing any man. Mine eyes have seen the glory of the coming of the Lord." The following day a segregationist assassinated Martin Luther King, Jr. at his hotel.
In 1983, President Ronald Reagan signed a bill declaring a federal holiday, which is celebrated near his birth date of January 15. The Episcopal and ELCA Lutheran churches recognize King as a martyr and celebrate his feast day on April 4 and January 15, respectively.
Back to Search Results