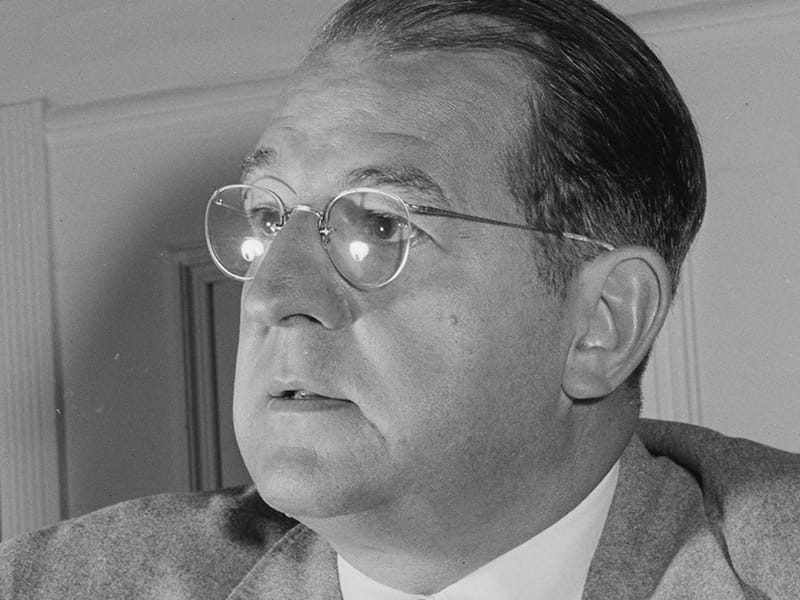 Image source: Bjørn Fjørtoft / Wikimedia.org
Faith:

Christianity

Profession:

Former Head of Jehovah's Witness Church

Lived:

1905 - 1977

Nationality:

American

Known for:

Head of Jehovah's Witness Church

Fun Fact:

Knorr left the Dutch Reform Church in 1922.

Fun Fact:

Knorr showed interest in the International Bible Students at 16.

Fun Fact:
Nathan Homer Knorr was the third president of the incorporated Watch Tower Bible and Tract Society, becoming so in January of 1942, replacing Joseph Frankin Rutherford, who served in the position since 1917.
Early Life
On April 23, 1905, Nathan Knorr was born in Bethlehem, Pennsylvania. He started showing interest in the International Bible Students at 16. He recalled once that he met his first Witness when he was a sophomore in high school, and soon after that, he threw himself into the movement. He left the Dutch Reformed Church in 1922 and was baptized in 1923 as a Bible Student after a baptism talk by Frederick Franz, who was close friends with Knorr. Knorr became a volunteer at the Watch Tower headquarters in Brooklyn, New York, on September 6, 1923, and became its factory manager in 1932. At 28, Knorr was elected director of the People's Pulpit Association and became vice-president in 1935. In 1942, Knorr became president of the International Bible Students Association and the corporations now known as Watch Tower Bible and Tract Society of Pennsylvania and Watch Tower Bible and Tract Society in New York.
Contributions to Jehovah's Witnesses
Knorr contributed significantly to Jehovah's Witnesses, with an intense focus on education. Within a month of his taking office, arrangements were made for an advanced course in Theocratic Ministry, which featured Bible research and public speaking. On September 24, 1942, Knorr suggested that the Society establish another school to train missionaries for service in foreign countries. The suggestion was unanimously approved by the board of directors. The first class of the Gilead School, the name given to this missionary school, commenced on February 1, 1943. Knorr arranged for the creation of new branch offices in many countries.
In 1942, when he became president, there were 25 branch offices worldwide. By 1946, despite the events of World Warr II, the number of branch offices increased to 57. Over the next 30 years, the number of offices increased to 97. Knorr started a campaign of real estate acquisition in Brooklyn to expand the organization's world headquarters, expand printing production throughout the world, and organize a series of international assemblies that overshadowed Rutherford's of the 1920s. He married Audrey Mock in 1953. In 1958, more than 253,000 Witnesses gathered at two New York City venues, Yankee Stadium and the Polo Grounds, for an eight-day convention where more than 7,000 were baptized. Other large conferences were held in the U.S., Canada, and Germany. Knorr also introduced the doctrine of not accepting blood transfusions.
End of Knorr's Career and Death
In December 1975, the leadership of Jehovah's Witnesses passed from the president of the Watch Tower Society to the Governing Body of Jehovah's Witnesses. Starting in January of 1976, the Governing Body formed several committees to oversee publishing, writing, teaching, service, and personnel. Knorr worked with the new arrangement until illness shortly before his death forced his move from the world headquarters in Brooklyn. He died from a cerebral tumor on June 8, 1977, while receiving hospice care at an extension of world headquarters Watch Tower farms in Wallkill, New York, at 72 years old.
Back to Search Results