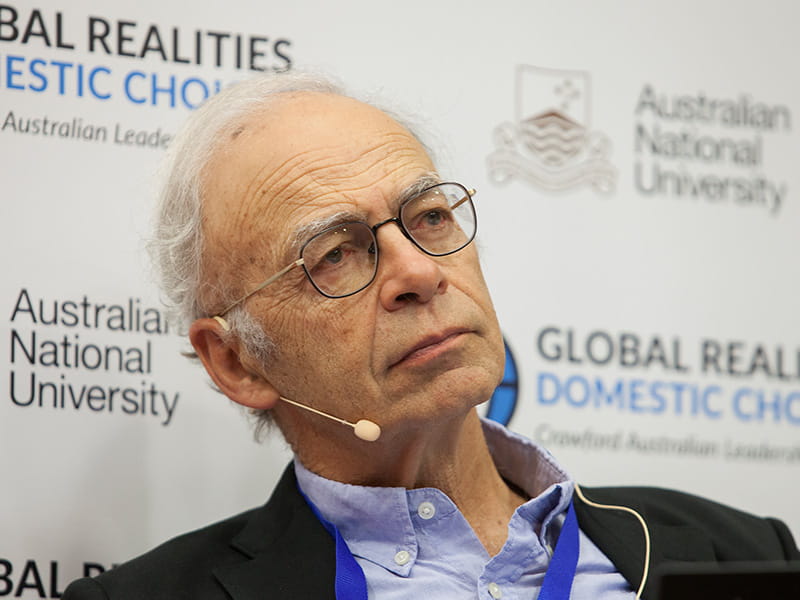 Image source: wikimedia.com
Faith:

Copy of Zoroastrian

Profession:

Philospher

Lived:

July 6, 1946- Present (Modern Era)

Nationality:

Australian

Known for:

Singer is known for his book "Animal Liberation" and for being one of the world's most controversial philosophers.

Fun Fact:

Singer is the founder of the International Association of Bioethics.

Fun Fact:

Peter Singer was inducted into the United States Animal Rights Hall of Fame in 2000.

Fun Fact:
Peter Singer is an Australian philosopher and professor who has taught in England, the United States, and Australia. Singer is an atheist who grew up in a non-religious household. He studied law, history, and philosophy at the University of Melbourne. After obtaining his bachelor's degree, Singer pursued his master's degree at the same university. He is currently the Ira W. DeCamp Professor of Bioethics in the University Center for Human Values at Princeton University. He specializes in applied ethics and approaches ethical issues from a secular Utilitarian perspective. Singer is an avid animal rights activist, often credited for starting the modern animal rights movement. In his widely popular book, "Animal Liberation," Singer discusses his support in veganism. Singer is also the founder of "The Life You Can Save," which is an organization that spreads his ideas of why people should be doing more to improve the lives of people living in extreme poverty. In 2004, Singer was recognized by the Council of Australian Human Societies as the Australian Humanist of the Year. Peter Singer has written, co-authored, and edited more than 50 books such as "Practical Ethics," "The Expanding Circle," and "The Ethics of What We Eat." Singer is broadly known for his controversial critique of the sanctity of life ethics in bioethics.
Back to Search Results