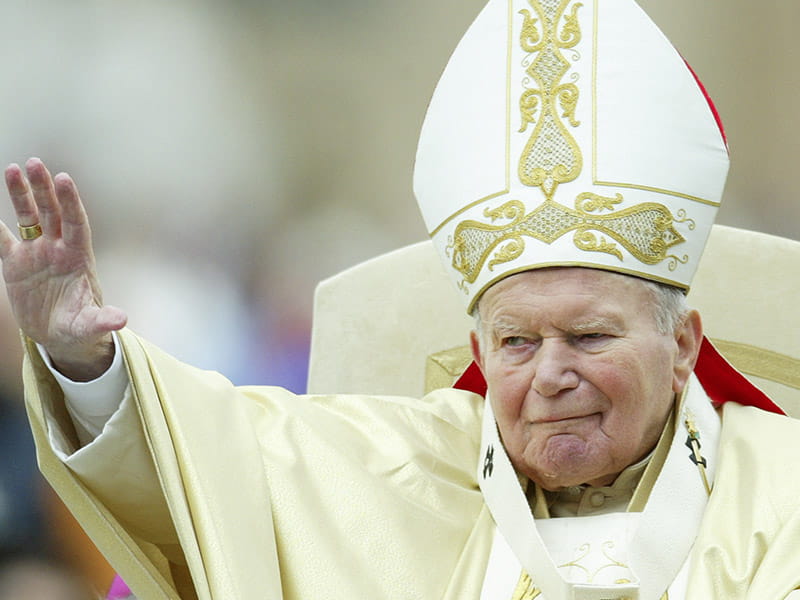 Image source: Alessia Pierdomenico / Shutterstock.com
Faith:

Christianity

Profession:

Pope, bishop, sovereign of Vatican City State

Lived:

October 16 1978 – April 2 2005 (Modern Era)

Nationality:

Polish

Known for:

Key figure in ending Communism and bringing down the Soviet Union

Fun Fact:

He chose his papal name as a tribute to his predecessor, John Paul I, who died 33 days after being elected.

Fun Fact:

He was the second longest serving pope in modern history and one of the most travelled world leaders in history. He visted 129 countries during his pontificate.

Fun Fact:
Born Karol Jozef Wojtyla, Pope John Paul II served as Pope and sovereign of Vatican City State from 1978 to 2005. He was elected after Pope John Paul I died after 33 days. Pope John Paul II was one of the key figures in ending Communism and ending the Soviet Union. During his famous visit to Poland in 1979, more than a million people came to hear his speech and began chanting "We want God!" When he said Mass in Blonie Field, two to three million Poles attended. He was canonized on April 27 2014, and his feast day is celebrated on the anniversary of his papal inauguration rather than his death day as is traditional. He has been posthumously called "John Paul the Great."
Back to Search Results