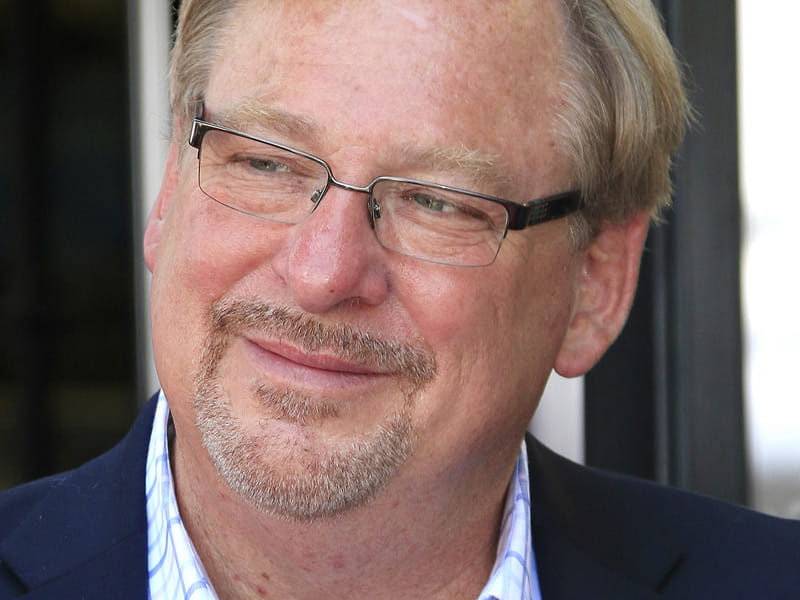 Image source: Joe Seer / Shutterstock.com
Faith:

Christianity

Profession:

Megachurch pastor

Lived:

1954 -

Nationality:

American

Known for:

Pastor of Saddleback Church

Fun Fact:

Warren's father was a Baptist minister.

Fun Fact:

Warren skipped class in college to hear W.A. Criswell preach.

Fun Fact:
Richard Duane Warren is an American Southern Baptist evangelical Christian pastor and author. He's the founder of and senior pastor of Saddleback Church, an evangelical megachurch affiliated with the Southern Baptist Convention in Lake Forest, California.
Early Life and Education
Warren was born in San Jose, California, to Jimmy and Dot Warren. His father was a Baptist minister, and his mother was a high-school librarian. He grew up in Ukiah, California, and graduated from Ukiah High School in 1972, where he founded the first Christian club on the school's campus.
Warren received a Bachelor of Arts degree from California Baptist University in Riverdale, California, a Master of Divinity degree from Southwestern Baptist Theological Seminary in Fort Worth, Texas, and a Doctor of Ministry degree from Fuller Theological Seminary in Pasadena, California.
Personal Life
Warren has been married to Kay Warren since June 21, 1975. They have three adult children and four grandchildren. He considers Billy Graham, Peter Drucker, and his father to be his mentors. In 2006, after the success of his book, "The Purpose Driven Life," he decided to reverse the tithe, donating 90 percent of his income to three foundations and no longer receiving a salary from the church.
Warren's youngest son, Matthew, took his own life on April 6, 2013, after ten years of struggling with mental illness. Warren says that, after the suicide, more than 10,000 people wrote to him about their struggles with mental illness within the church. About a year later, Warren launched a ministry to educate the church on its role to help people struggling with mental illness at The Gathering on Mental Health and the Church in March 2014.
Ministry
Warren says he was called to full-time ministry when he was a 19-year-old student at California Baptist University. In November 1973, he and a friend skipped classes and drove 350 miles to hear W. A. Criswell preach at the Jack Tar Hotel in San Francisco. Warren waited afterward to shake hands with Criswell, who focused on Warren, stating, "I feel led to lay hands on you and pray for you!"
During his time at Southwestern Baptist Theological Seminary, Warren worked at the Texas Ranch for Christ, a ministry facility of Billie Hanks Jr., where he began writing books. He co-wrote two books, The Victory Scripture Memory Series and Twelve Dynamic Bible Study Methods for Laity, with Hanks and Wayne Watts.
In January 1980, he started a Bible study group, with seven people and his wife, at their Saddleback Valley condo, in Orange County, California. In April 1980, Warren held Saddleback Church's first public service on Easter Sunday at the Laguna Hills High School Theater with 200 people in attendance. Warren's church growth methods led to rapid expansion, with the church using nearly 80 different facilities in its 35-year history. The church now averages almost 20,000 people in attendance each week.
Speaking Engagements
Warren has been invited to speak at national and international forums, including the United Nations, the World Economic Forum in Davos, the African Union, the Council on Foreign Relations, Harvard's Kennedy School of Government, TED, and Time's Global Health Summit. He has been a member of the Council on Foreign Relations (CFR) since 2005.
In August 2008, Warren drew greater national attention by hosting the Civil Forum on the Presidency, featuring senators John McCain and Barack Obama at Saddleback Church. The forum marked McCain and Obama's first joint appearance as the presumptive Republican and Democratic presidential nominees and was broadcast live on national television. In December 2008, President-elect Obama chose Warren to give the invocation at his inauguration ceremony.
Back to Search Results