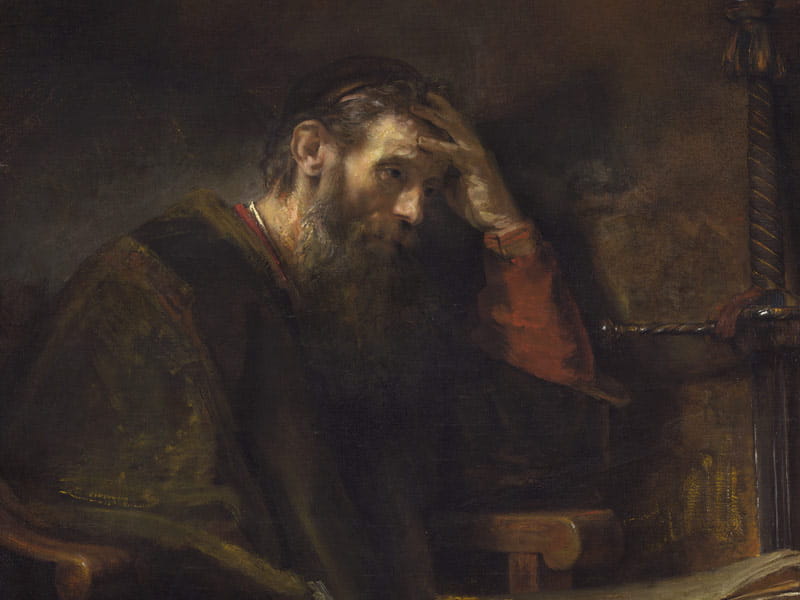 Image source: Rembrandt/Public Domain
Faith:

Christianity

Profession:

Lived:

A.D. 5-6 - A.D. 64 or 67

Nationality:

Hebrew/Roman Citizen

Known for:

Central figure in Christianity. Converted to Christianity after persecuting Christians, preached Gospel to Gentiles, authored the Letters of Paul, eventually martyred in Rome

Fun Fact:

While Paul is credited with writing all of the Epistles, only seven of them have been deemed by scholars to have been written by Paul himself. There is considerable debate over which of the remainder, if any, were written by Paul himself as opposed to students of his writing in his name.

Fun Fact:

Paul, called Saul prior to his conversion, is widely believed to have been the man who held the coats of the people who threw stones at St. Stephen, the first martyr.

Fun Fact:
Saint Paul the Apostle, also known as Saul of Tarsus and Paul of Tarsus, was one of the only followers of Jesus who is considered to be an apostle but was not a member of the original Twelve Apostles. Prior to his conversion, he was known for hunting down and persecuting Christians. While on the road to Damascus, however, Christ appeared to him. Paul subsequently converted and began preaching the Gospel. He focused largely on preaching to the Gentiles including those within Rome itself. Approximately half of the book the Acts of the Apostles follows Paul, and he is credited with writing the Epistles in the New Testament before being martyred in Rome.
Back to Search Results