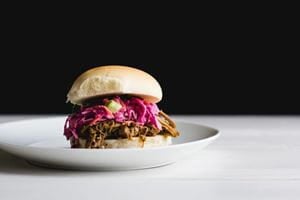 Pork Sliders / Sarah Hauser
Each month, accomplished food blogger and religion writer Sarah Hauser shares lessons on eating, cooking, and food, all rooted in a biblical story and with detailed recipes.
At Creation, God didn't make a garden with only the nutritional essentials. He didn't have to create our bodies with the ability to eat at all. But he gave us an abundance to consume. He set Adam and Eve in Eden, a name meaning "pleasure or delight." He gave trees that are "pleasant to the sight and good for food" (Genesis 2:9). God generously designed a world made for human flourishing, not just subsistence. And it was good.
I admit it. Cooking can often be a drudgery for me. I used to love experimenting with ingredients, creating new recipes, and trying different flavor combinations. But the practical needs of my three hungry children and the inevitable mound of dishes after a meal often seems to swallow my own desire to cook. So I resort to what's easy, what's simple, what's "kid-friendly."
There's nothing inherently wrong with that, of course. Good food doesn't need to be complicated, and some nights call for ready-made meals or takeout. But after too many nights of the same old pasta and jarred sauce, I find I lose my joy in the kitchen—and it's not ultimately because of my kids' preferences or what I chose to put on our dinner table.
I lose my joy in the kitchen when I forget that cooking and eating is a gift to be savored. This is when I remember the lesson of Eden.
And it was good.
That goodness was twisted at the Fall. Adam and Eve desired life and wisdom apart from their Maker, apart from the Giver. But despite their failure and our own, we hold in our hands both the truth of the original creation and hope for the new one. We get to look back at what God did then and reclaim it, to dust off the abuse and misuse of food that causes our delight in God's gifts to decay.
Instead of savoring, stewarding, and celebrating the gift of food, we too often make our eating solely about us. It becomes only about our desires, our appetites, our instant gratification. It becomes an idol. We can become consumed by our obsession with what we put in our bodies, or we go to the other extreme and give into gluttony and drunkenness. We can turn our food into an idol in a thousand ways, and when we do, we miss the full enjoyment of it. As Robert Farrar Capon wrote, "Idolatry has two faults. It is not only a slur on the true God; it is also an insult to the true things."[1]
But God created us to experience delight as we create in our kitchens and sit with others at our tables. We don't make an idol out of what we eat, but we do get to enjoy it.
What would it look like to regain delight as we eat—and not just on special occasions or when we go out for a fancy meal? How can we stop long enough to taste the goodness of the Giver even on an ordinary weeknight, at our kitchen tables, with our (sometimes picky) families?
It starts with slowing down.
Slow down as you peruse through the grocery store aisles. Notice different fruits or vegetables you haven't cooked with before. Look closely at what's there, smell the different herbs, ask the butcher a question or two. If you've got two kids in the cart and one walking alongside you like I usually do, teach them along the way. Show them how to check the fruit you select. Have them smell the difference between parsley and cilantro—and then, sure, snag a box of donuts to eat on the car ride home, because grocery shopping with kids is not for the faint of heart. (Believe me. I get it.)
Slow down as you cook. Nothing can replace a warm stew simmering on a hot stove all day. Sure, we can easily pull out the Instant Pot and make that stew in a fraction of the time, and we can relish our modern conveniences. But the beauty of a non-instant dish is that it forces us to slow down. It forces us to stop what we're doing, to come to the stove and stir, to smell throughout the day the comforting fruits of our labor. It's like taking the scenic route. No, we can't always drive the long way, but sometimes, it's refreshing to take your time, to go out of your way so you can refill your soul.
Slow down as you eat. There are times when life requires us to eat on the run. I feel like I'm regularly running out the door late. But when that's the norm, when eating on the go or eating while multitasking becomes a habit, are we truly able to enjoy what we're eating? How much more could we delight in our food if we paused, slowed down our bodies, and ate for the joy of eating?
When we take the time to recognize food for the gift that it is, we don't disregard it or carelessly consume. We steward it, savor it, share it. We can eat our bread with joy and drink our wine with a merry heart, as Ecclesiastes 9:7 says, because God is that good and that generous. He gives us not just what we need, but gifts we can enjoy. How good is our God that allows us to taste and see his goodness in our kitchens and at our tables.
So let's slow down. Let's savor. And let's delight in the gift of food—and the goodness of the Giver.
---
Coffee Rubbed Pulled Pork Sliders
Yields about 20-24 sliders (10-12 servings)
1 (4-5 pound) pork butt roast
3 Tablespoons finely ground coffee
2 Tablespoons chili powder
2 Tablespoons brown sugar
2 teaspoons garlic powder
2 teaspoons kosher salt
½ teaspoon cayenne pepper
20-24 slider buns
In a small bowl, mix together the coffee, chili powder, brown sugar, garlic powder, salt and cayenne pepper. Thoroughly rub the spice mix all over the pork butt roast. You should end up using most, if not all, of the spice rub.
Place the spice-rubbed pork in a 6-quart slow cooker. Cook on low for 8-10 hours, or on high for about 6 hours. The pork is ready when it can be easily pulled apart.
Use a couple forks to shred the meat, and remove any large pieces of fat. Give everything in the slow cooker a good stir so the spices, juices, and meat are thoroughly mixed together.
Serve the pork on the slider buns (or regular-sized buns), and top with the red cabbage slaw and a few chopped green onions. You can also serve with a bit of barbecue sauce if desired. Enjoy!
---
Red Cabbage Slaw
Yields about 10-12 servings
1 medium-sized cabbage, shredded (about 8 cups)
2 large carrots, shredded (about 2 cups)
4 green onions, chopped
2 limes, juiced (about ¼ cup of juice)
¾ cups mayonnaise
3 Tablespoons honey (plus more to taste)
1 Tablespoon apple cider vinegar
1 teaspoon kosher salt (plus more to taste)
½ teaspoon freshly ground black pepper (plus more to taste)
In a large bowl, mix together the cabbage, carrots, and most of the green onions (reserving a few for garnish when serving).
In a separate bowl, make the dressing by whisking together the lime juice, mayonnaise, 3 Tablespoons of the honey, vinegar, salt, and black pepper.
Pour the dressing over the cabbage mixture, and stir until everything is fully incorporated. Season with additional honey, salt, and pepper to taste.
Cover and refrigerate at least 1 hour before serving. When you're ready to serve, give the slaw another good stir to redistribute the dressing. Serve on top of the pulled pork and garnish with the reserved green onions. Enjoy!
Notes: Why not have pulled pork for breakfast? Save some of the meat, and top it with an over-easy egg the next day.
For grain-free, serve the meat over a baked potato or sweet potato instead of a bun.
If you plan to make this more than once (which I recommend!), triple or quadruple the spice mixture and store it in a jar in the pantry. Then, you'll already have that step done the next time you want to make this dish!
---
[1] Robert Farrar Capon, The Supper of the Lamb: A Culinary Reflection (New York: Modern Library, 2002), 20.
12/2/2022 9:04:00 PM