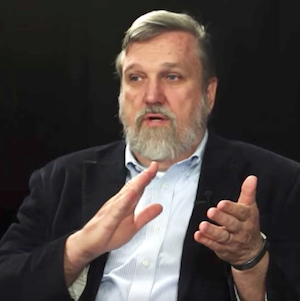 Douglas Wilson (b. June 18, 1953) is a Christian theologian in the Communion of Reformed Evangelical Churches and pastor of Christ Church, a traditional Calvinist congregation in Moscow, Idaho. He is also on the faculty of New Saint Andrews College, a Reformed Calvinist institution also located in Moscow.
Wilson holds degrees in classical studies from the University of Idaho and is the author of more than 50 books, most in one of three areas: conservative Christian theology, classical Christian education, and biblical family life.
Among his published views have been controversial positions on slavery and race relations. His pamphlet
Southern Slavery: As It Was
argues that the institution of plantation slavery created "a genuine affection between the races that we believe we can say has never existed in any nation before the War or since." Instead of recanting his position, Wilson held a conference in 2004 with speakers and attendees who supported his positions on race and slavery.
Wilson has also drawn criticism by advocating the
exile of gays and lesbians
, claiming that support for gay marriage was a "
far more serious
" problem than support for slavery, and presiding over the
marriage of a convicted serial child molester
.
Patheos on Douglas Wilson
THEOLOGY IN THE RAW
JESUS CREED
LOVE, JOY, FEMINISM
NO LONGER QUIVERING
Image via YouTube screenshot
5/14/2018 1:21:14 PM