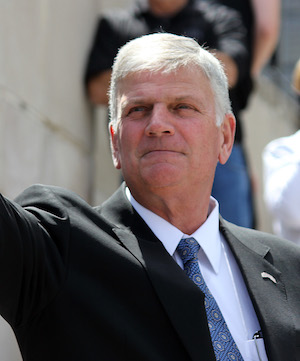 William Franklin Graham III (b. July 14, 1952) is a U.S. Christian evangelist and CEO of both the Billy Graham Evangelistic Association and Samaritan's Purse, a Christian relief organization. He is the eldest son of Christian evangelist Billy Graham.
At age 22, while on a trip to Jerusalem, Graham had a conversion experience, committed himself to Jesus Christ, and decided to dedicate himself to charitable relief efforts worldwide. He began working with Samaritan's Purse and in 1979 took over as President upon the death of founder Bob Pierce.
By the late 1980s, Graham was helping to organize events for the Billy Graham Evangelistic Association and became CEO in 2000.
In 2001, Graham offered the opening prayer at the first inauguration of President George W. Bush. In the years following the attacks of September 11, 2001, Graham voiced increasing strong anti-Muslim sentiments, calling Islam "
a very evil and a very wicked religion
" and advocating the use of weapons of mass destruction in the Middle East. After a joint letter from black religious leaders in 2012 expressed disappointment in Graham for intimating that President Barack Obama was not a Christian, Graham issued a
clarifying statement
: "I regret any comments I have ever made which may have cast any doubt on the personal faith of our president, Mr. Obama. The president has said he is a Christian and I accept that."
Graham often led evangelical opposition to same-sex marriage in the U.S., including support for North Carolina's Amendment 1 in 2012, which prohibited such marriages until being overturned in 2014.
Graham was a strong early supporter of the presidential aspirations of Donald Trump, calling Trump his "preferred candidate" as early as the 2012 campaign and offering outspoken support in the 2016 campaign. After Trump won the election in November 2016, Graham said that "God showed up" to ensure the victory.
Patheos on Franklin Graham
OFFICIAL BLOG OF BENJAMIN L. COREY
PHILOSOPHICAL FRAGMENTS
KIMBERLY KNIGHT: COMING OUT CHRISTIAN
MERCY NOT SACRIFICE
Image by Cornstalker CC BY-SA 4.0 via Wikimedia
5/14/2018 1:21:14 PM