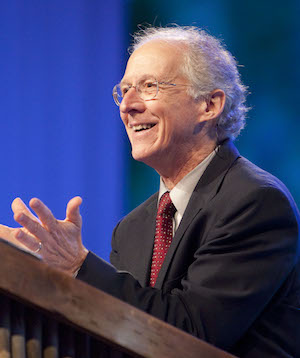 John Piper (b. Jan 11, 1946) is a Calvinist pastor and theologian.

After initially intending a career in medicine, Piper decided on ministry during college and continued to complete an M.Div. at Fuller Theological Seminary, followed by a Doctor of Theology degree at the University of Hamburg.

He moved to Minnesota where he taught Biblical Studies at Bethel University in St. Paul before accepting a pastorate at Bethlehem Baptist Church in Minneapolis in 1980, the position from which he retired in 2013.

Piper is the author of more than 40 books, many built around his philosophy of Christian hedonism—that our greatest satisfaction is to be found in the glorification and praise of God. Others reflect his fundamentalist views of gender roles, the Calvinist view of predestination, and premillennialism (the doctrine that Christ will return to Earth to judge the living and the dead).

He is also the founder of desiringGod.org, an online ministry housing more than 11,000 articles, sermons, and full-text books related to Piper's theological perspective.

Piper and his wife have five children and twelve grandchildren.


Patheos on John Piper
BENJAMIN L. COREY
WARREN THROCKMORTON
THEOBLOGY
LOVE, JOY, FEMINISM
ROGER E. OLSON
Image by Micah Chiang CC BY 2.0 via Wikimedia
5/14/2018 1:21:16 PM