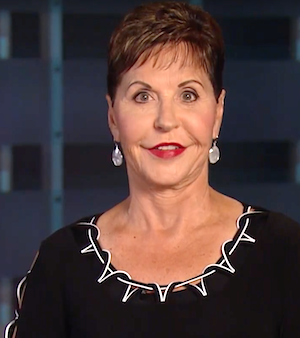 Joyce Meyer (b. June 4, 1943) is a Christian televangelist and author.

After growing up in St. Louis and becoming a born-again Christian at age nine, Meyer briefly taught Bible study at an area Lutheran church. She soon became active in a local Charismatic Christian ministry where she rose to associate pastor in the late 1970s. Her popular Bible study classes led to a 15-minute daily radio program.

In 1985, Meyer established her own independent ministry called Life in the Word, which grew both in live services and radio broadcasts. In 1993 the ministry took the leap to television with a program called Enjoying Everyday Life, which quickly became the media flagship of the newly incorporated Joyce Meyer Ministries. As of 2017, the ministry claims the program is seen in over 200 countries.

Though her ministry is based on a "common-man" approach to knowledge and faith, Meyer has been criticized for a lavish lifestyle, including a $10 million private jet and multiple well-appointed homes. Meyer has defended her spending in terms common to the prosperity gospel movement, saying she has been "blessed" in proportion to her good works. Nonetheless, her ministry has drawn the attention of a Senate investigation and numerous independent watchdog organizations. The organization Ministry Watch gave the ministry a C for financial transparency, while the Evangelical Council for Financial Accountability said JMM met their requirements for responsible financial stewardship.

In 2005, TIME magazine named Meyer one of the 25 Most Influential Evangelicals in America.
Patheos on Joyce Meyer
RE-GENERACIÓN
WARREN THROCKMORTON
ROBERT RICCIARDELLI
ROLL TO DISBELIEVE
BARRIERBREAKER

Image via YouTube
5/14/2018 1:21:16 PM