"You see, caring for the poor and worshipping God are not mutually exclusive. In fact, I would argue they are one in the same." ~ Tai Anderson of THIRD DAY
Last month marked the ten-year anniversary of the ONE campaign, an international advocacy organization founded by rock star Bono and other celebrities and faith and government leaders to end extreme poverty and preventable disease, particularly in Africa. Since its founding, nearly five million people around the world have joined the campaign to become advocates for ending global poverty. A particular strength of the campaign has been its outreach to the faith community, and especially high profile Christian musicians.
One such band that connected with ONE from the very beginning was the four-time Grammy-award winning group Third Day. As Tai Anderson, the band's bassist said, "When you're in a Christian rock band and Bono comes to you and asks you to do something, the proper response is "Yes, sir!"
At a recent special concert in the band's hometown, ONE volunteers filled the lobby, educating fans before the show, a ONE tenth anniversary video narrated by Bono was played on stage before the intermission, and Georgia Senator Johnny Isakson was invited onstage to deliver a message about the "incredible progress" that has been made in the fight against extreme poverty and preventable disease.
Representatives from ONE praise Third Day's "incredible support over the years" and cite their critical role in helping the evangelical community go from seeing the HIV pandemic as "punishment" to becoming some of the most ardent supporters of the U.S. President's Emergency Plan for AIDS Relief (PEPFAR).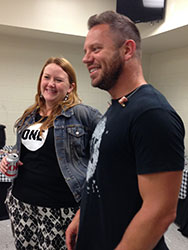 I spoke with Anderson (who joined the band when he was just sixteen years old) last week on the phone about the Third Day's relationship to the ONE Campaign, their special hometown concert to promote awareness for and spread the good news about the efforts to end extreme poverty, and how their music has changed over their twenty-year career.
You all are launching a new tour this summer and kicking it off in your hometown of Duluth, Georgia ... tell us about the tour.
Well, it's not really a new tour ... we've actually been on tour but we just haven't played in our hometown for a long time. Last year was actually one of our busiest years, and we had put together this really good show, and I just started saying, guys, can we please play in our hometown for all of our friends and family and our hometown fans?
The tour is called "Third Day and Friends" ... who are the "friends"?
Well, that was really a statement of faith, because at the time we booked the show, we didn't know who our friends were ... or if we even had any friends! [laughter] But on the business front it's worked out great. A lot of times, promoters really want to know who the opening band is, and we always say, hey, isn't Third Day a big enough draw on its own? But they're the ones putting up the guarantee, so they want as much of a draw as they can. Well, we put together this really good show and put it on sale, and it sold great. So now, it's really a great "under-promise and over-deliver" situation. Because people don't know who the surprise guests are, but they're coming anyway, and every night we're going to have some really great special guest acts and we have some really cool moments planned.
Your Duluth concert was special, not only because it was a rare hometown show, but also because you dedicated it to ONE, which you've been involved with for many years. What's your relationship with the ONE campaign?
The ONE campaign is very important to me, personally. Years ago, even before the ONE campaign started, we were already involved in work with the poor with organizations like World Vision and Habitat for Humanity. Third Day's guitarist and I had been to a Jimmy Carter work project in South Africa and spent a week building homes over there. So we already had a heart for the poor and for Africa.
It's almost unfathomable now, but twelve to thirteen years ago there was this pandemic of AIDS in Africa, but nobody knew about it. The news wasn't talking about it. Our introduction to the ONE campaign was when Bono held an almost emergency meeting—there wasn't a campaign yet, there was just data. Bono came to Nashville and invited all of these Christian artists to come out and meet with him. And he shared with us, sunglasses off, as a man of faith, the importance of getting involved.
6/5/2014 4:00:00 AM