By Christine Valters Paintner
With this article, I am delighted to begin a series to look at the connection between art and spirituality within the Catholic tradition. In the weeks ahead, we will explore different aspects of this connection including sacred art forms, prayer practices, wisdom of the Christian mystics, symbols, interviews, and more.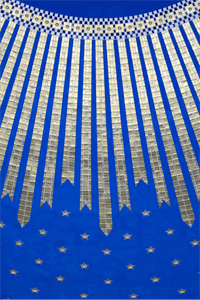 The Christian imagination and experience of the world are shaped by a God who becomes fully human - who steps into what it means to be flesh with all of its joys and wounds. In the Gospels, we often find the person of Jesus sharing meals, turning water into wine, being baptized with water, and anointed with oil. Everywhere he goes he tells robust stories filled with earthy images of soil and seeds, fig trees, wineskins, salt, sheep, and stones. He was a man fully in touch with his senses and who understood the gifts of our senses as a doorway to a deeper encounter with God through ordinary life. With Jesus, we find not just God's transcendence and power, but holy immanence and intimacy. This is what the Incarnation is about: the invitation to discover a God whose presence beats at the heart of the world.
We experience this in a profound way as we gather each week for liturgy. In the Catholic Mass there is a sacred invitation to become fully present to each of our senses during the service: through the smell of incense rising and beeswax candles melting; through the sound of church bells ringing, chimes singing, music playing, and the community joining their voices together in song; through the taste of communion bread and wine, which reminds us we are of one body and one blood; through the sight of architecture, the way the building space is designed, the art and banners hung to connect us with liturgical colors and symbols, and images of our faith; and through touch when we extend our hands for the Lord's Prayer or the kiss of peace. Next time you are at a Catholic liturgy, make it a practice to become fully aware of how each of your senses is being engaged in a given moment. Notice what your sense experience has to teach you about God's many dimensions and textures.
Art and aesthetic experience is about cultivating our senses so that we might become more in touch with the sacred dimension of the world around us. We begin to see more deeply, hear more profoundly, see, smell, and taste the depth dimension of things. What we do in liturgy is meant to extend beyond Sunday morning - at Mass we are practicing for daily life. We practice discovering how we are connected to one another through sharing a meal, a song, an embrace. We learn to discover the holiness of scent and a sacred way of seeing the world as it really is, beyond surface appearances. Then as we move through our days, we may begin to experience a grace that is palpable, a grace that invites us to say yes with the whole of our being and each one of our senses.
Christine Valters Paintner, PhD is a Benedictine Oblate and the founder and director of Abbey of the Arts, a non-profit ministry integrating contemplative practice with the expressive arts. She teaches at Seattle University's School of Theology and Ministry and also works as a spiritual director, retreat facilitator, writer, and artist. She is the co-author of Lectio Divina: Contemplative Awakening and Awareness from Paulist Press. Visit her website www.AbbeyoftheArts.com.
1/1/2000 5:00:00 AM