By Boris Kurbanov -- June 24, 2009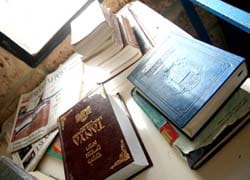 For Avi, it started eight years ago after he began dating a Jewish girl.
At the time, his girlfriend babysat for the Reikes, a Conservative Jewish family in St. Louis, Mo., who often invited the young couple to join them for Shabbat dinners and holidays. That's when Avi, then 19, began to get curious about Judaism.
Born and raised in the Gateway City, Avi, whose parents did not belong to any religious or secular denomination, never felt an immediate closeness to his family. It's not that he didn't love them, or that they didn't love him, he says -- he just felt like they didn't really "get him."
Robin and Sanford Reikes and their two children "got him," acting as a surrogate family for Avi, supporting him through his first years away from home, providing advice and making sure he made sound decisions.
Avi, who had always had a problem with organized religion, also began participating in more Jewish activities with the Reikes, such as Passover Seders, Yom Kippur fasts and even attending Saturday morning services.
"I felt included and I always felt welcomed. I felt like I had been coming to their house on Friday night all my life and it felt like home," he says. "They felt like family."
Avi, who preferred to use his Jewish name instead of his real name for the purpose of this article, is among approximately 10,000 people who convert to Judaism worldwide each year, according to Aish.com. But unlike the thousands who convert for the love of a spouse, Avi's reason was based on a love of religion.
"I felt like I had found this amazing new thing that no one else in the world [other than Jews] seemed to know about. This thing was exciting, and interesting, and weird, and fun, and educational all at the same time," he wrote in an essay titled "My Judaism."
Rabbi Will Berkovitz, executive director of Hillel at the University of Washington, works with the 18-to-32-year-old age group, and says people convert to Judaism for many reasons, but that they all share something in common.
"In all of these cases, the common thing is an identity quest -- people try to understand who they are, where they're coming from, and where they're going," Berkovitz says.
If one is indeed serious about converting, Berkovitz suggests they speak with three members of the clergy from their own faith, and have a sober conversation about religion before finally deciding.
"My philosophy is, if a person can find a home in their tradition, then that is better," Berkovitz says, adding, "I want to make sure they explored that option seriously."
Brian Judd, 31, born into a Catholic home, converted to Judaism two years ago after realizing he didn't quite fit in with the environment in which he'd been raised.
Judd, whose mother is a former nun and father a Southern Baptist, became interested in Judaism after reading The Chosen in his Catholic high school. Something just "rang true" for him about the characters and their lives.
In his 20s, he began exploring Judaism more actively. "I started attending services, saw I was a natural fit and found a home. It was really about values of the community and values of Judaism in general -- it's less about the hierarchical power and more about focusing on the individual," Judd says.
Soon, he formed a bond with Rabbi Michael Latz of Kol HaNeshamah in West Seattle, who helped him along his path to conversion.
Judd felt an emotional connection to Judaism, but decided to take a two-year break because he was struggling with the idea of belonging to an organized religion after so long without affiliation.
"I took some time off to reflect on what I wanted out of life and eventually decided to convert once I realized how Judaism fit perfectly into how I wanted to live my life," Judd says. "It also fit right into how I feel I was supposed to live my life."
Judd also contemplated how his conversion looks to other Catholics. "I believe the theory is that I have turned my back on my baptism and Jesus," he says. "But the individual people in my life were supportive of my decision, as I was raised by and with people who understand how all the religious traditions in the world are connected and simply cousins of each other."
No matter how certain the individual is of his or her decision, conversion is not a quick process. Typically, a conversion lasts anywhere between one and five years, depending on the student, Berkovitz says, adding it "almost never takes less than a year and oftentimes takes much more."
"Some come in who were raised in Jewish families or are connected to the Jewish community, and others starting from scratch. It really depends on the student," Berkovitz says.
1/1/2000 5:00:00 AM