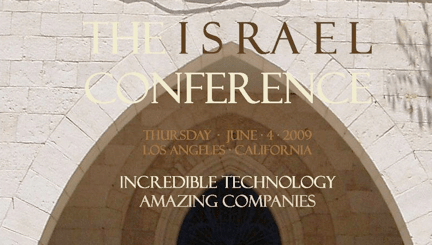 By Kelly Hartog -- June 9, 2009
This article first appeared in ISRAEL21c, www.israel21c.org
On June 4, over 400 people attended the Israel Conference at the Luxe Hotel in Los Angeles. Under the banner "Incredible Technology, Amazing Companies," the event brought together some of the biggest and brightest stars in the Israeli and Southern California technology, investment, and venture capital world.
With panels covering everything from clean tech and high tech to med tech and social media, the event also boasted technology rock stars like Yossi Vardi and Bob Rosenschein.
The turnout was impressive given the current state of the economy. Yet despite the recession there was still plenty of interest and a true desire to try and invest in the next big thing.
Below photo: Attendees at the conference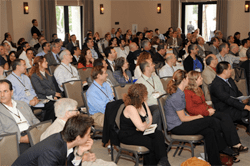 In addressing the attendees, Los Angeles Israeli Consul General Jacob Dayan noted that the downturn in the economy has actually benefited both Israel and the US, in light of the stimulus packages that are being doled out by the US government.
Together with Utah Governor John Huntsman, Dayan recently returned from a trip to Israel where as a result of Utah's receiving a $1.5 million stimulus package, Huntsman is now working together with the Israeli solar company BrightSource, on a deal similar to the one struck last month between BrightSource and Pacific Gas & Electric in California.
Perhaps some of the greatest buzz surrounding the conference was in the area of clean tech and the recent deal struck between Assaf Barnea, CEO of Kinrot Ventures and the head of Los Angeles Department of Water and Power, David Nahai.
It's not about the money
Nahai was part of a delegation to Israel recently with Los Angeles Mayor Antonio Villaraigosa, where a cooperation agreement was drawn up between the LADWP and Kinrot.
Barnea told ISRAEL21c that when it comes to clean tech and water technology it's not simply about the money, rather, "It's a necessity for the very well-being of people on the planet. New technologies that can optimize the usage of water and infrastructure is crucial whether these are good economic times or bad."
Nahai agreed, saying, "We can learn a great deal from Israel, which has long been grappling with the kind of challenges we're dealing with today in Los Angeles."
Some of those challenges include the fact that LA is in its third year of a drought and is now facing mandatory water conservation. Nahai cited Israel's pioneering of drip irrigation, saying, "Los Angeles has a ban in place now where you can only water your lawn with sprinklers twice a week, but if you install drip irrigation that ban does not apply."
During the panel discussion on Clean Tech, Nahai also noted that "crisis and opportunity are two sides of one coin, which produce the opportunity for innovation and creativity and Israeli companies have clearly stepped up to the plate."
Jacob Segal who is on the board of directors of the Southern California Israel Chamber of Commerce - one of the events' sponsors - echoed Nahai's words, telling ISRAEL21c, "Even though there's a recession, good ideas will always transcend any kind of economic situation."
In current climate cream rises to the top
And speaker Yoav Izahar-Prato, founder and CEO of Kenshoo, a company offering cutting edge solutions for Search Engine Marketing said he felt that the current climate helps the cream rise to the top.
"Innovation and the ability to swim upstream in this economic climate is the sense I am getting [at this conference]," he said. "The fact that the economy is slowing down doesn't mean it's time to stop. On the contrary, there are big opportunities ahead and if you can run when everyone else is slowing down, you can break the speed limit."
Isaac Applebaum of the Westley Group told everyone at the conference during his panel on clean tech that you can indeed still make money in this economy. How? "Get on a plane, go to Israel, invest in really, really smart VC's and incubators because there's an enormous amount of money to be made in the clean tech environment," he told delegates.
But while clean tech, med tech and green tech can all be seen as necessities in today's environment, what of social media and communications? Will people still invest in them in today's economic climate?
Speaker Andy Abramson, an advisory board member of Vringo - an Israeli startup that allows users to set their own visual or video ringtone for their cell phones and choose their avatar - seemed to think so.
1/1/2000 5:00:00 AM