By Jessy Gross -- PresenTense Mag
All photos by Rachel Gold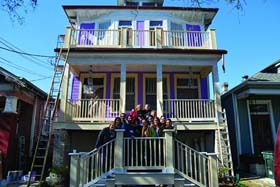 It's a chilly morning in New Orleans. Eager, spirited young adults ascend scaffolds and ladders, buckets of paint and paintbrushes in hand. The morning's task: to paint a house purple. The New Orleans jazz and heritage station plays in the background while 30 Jewish Funds for Justice educators swap stories and share personal accounts of previous experiences at the intersection of Judaism and social justice.
Service learning has a growing presence as a means of Jewish education. It is a form of experiential instruction that combines issue-based learning, hands-on projects, and reflection. Discovering that painting a home in 2009 is rooted in age-old Jewish values frames our work in a Jewish context.
During the week of service in New Orleans, participants study what Jewish tradition says about providing service, pondering their obligations to Jew and non--Jew alike and considering their universe of obligation. Questions asked of those engaged in physical service include: what is the value of traveling to New Orleans to work on projects addressing similar issues that affect the cities we live in--issues that include race, poverty, and class? The week is thus more than just about the purple house we paint. It is an opportunity to hear the testimonies of Hurricane Katrina survivors, of life inside the Superdome in the days that followed, and of rebuilding efforts in a city that takes its time to do anything. Participants-in this case, myself included--consider these narratives alongside traditional Jewish texts, illuminating our charge, as Jews, to be a light unto the nations.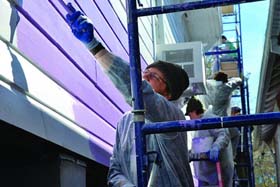 In studying texts--like Deuteronomy 16:20, where the Torah commands the Jews to pursue justice--Jews exploring new ways to relate to their Jewish identity may find a universal connection to Jewish particularism. For some, knowing that social justice is a cause championed by the Torah strengthens their imperative to participate in service. For others, service learning can be an opportunity to make Judaism relevant. It can be an entry point for those estranged from Jewish involvement, providing a comfortable way to step into Jewish community. It can also be an opportunity for highly involved Jews to directly link that which they study to the act of doing, an important relationship in Judaism.
Service learning's short-term structure is meant to have long-term impact. Hunter Owens, a high school sophomore who is a member of University Synagogue in Brentwood, California, participated last summer in the North American Federation of Temple Youth's "Mitzvah Corps" program. Hunter says of the experience, "I went in wanting to do something. After, I wanted to do more." Hunter is looking to spend his summer as an intern in the California state government--embodying the hope that participants will go on to integrate service and political action as an important part of their lives.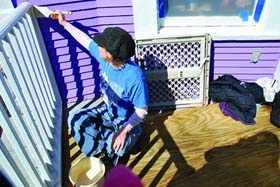 Hunter's experience can be a common one with some further adaptation, says Lydia Medwin, a fourth-year rabbinical student at the Hebrew Union College in Los Angeles researching Jewish service learning. According to Medwin, "Because our generation was the first to participate in service learning programs, we are in the position to ask why and how these trips help to build Jewish identity." Medwin is exploring how Jewish service learning inspires action, fuels the desire for ongoing learning, and heightens one's sense of obligation. She believes that Jewish service learning could be an integral model in helping to create sustainable Jewish communities.
An example of the way American Jewish organizations seek to provide opportunities to engage in service both locally and in Israel in order to build community is a group traveling to Israel through Baltimore's Jewish Volunteer Connection (JVC). After spending a day in Ashkelon working with the local community to build a playground, the visitors and locals dined together and compared experiences of growing up as Jews, either in the U.S. or in Israel. The stories and narratives of the people who worked together proved to be just as important as the work itself, serving as an explicit expression of the essence of who we are, both as individuals and as a collective people.
While many in our parent's generation may have marched in Selma in the civil rights movement to pursue justice in their time, it is this generation's chance to weave service learning into the fabric of meaningful Jewish education. We hold the key to grow an approach to education that is both 'roll up your sleeves and get dirty' and vital in shaping one's Jewish identity.
This article first appeared in PresenTense.
Jessy Gross is a third-year rabbinic student at the Hebrew Union College in Los Angeles. Next year, she will be obtaining a master's of Jewish education through the Rhea Hirsch School of Education at HUC. She has lived in Washington D.C., San Francisco, and Jerusalem and enjoys everything nature and culture .

Judaism, Jewish
1/1/2000 5:00:00 AM