By Gateway staff -- June 12, 2009
Photo by Kris Snibbe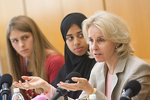 On September 23, 2008, Sally Quinn, journalist for the Washington Post, interviewed five Harvard undergraduates about their religious convictions. These students represented Islam, Mormonism, Judaism, Presbyterianism, and Buddhism. Before an audience of approximately fifty students, faculty, and chaplains of diverse religions at Beren Hall at Harvard Hillel, these five students were asked to reveal their 'spiritual biographies.' The panel discussion was titled "Engaging Religious Difference: Personal Quests for Purpose" and was part of a day-long series of events on "Faith Live on the Harvard Campus: Personal Quest, Public Conversation, and Global Citizenship."
Notably, Rachel Esplin, an LDS undergraduate in the East Asian Studies program, and president of the Latter-day Saints Students Association, was asked to explain her background growing up in Idaho, and how coming to Harvard has impacted her religious views and convictions.
Esplin did an excellent job framing the religious questions that she has faced by coming to Harvard: "What does religious diversity mean? What does it mean to be in a secular environment? What does it mean to come face to face with what I don't know and what I have to learn?" In Esplin's case, coming to Harvard and learning about other faiths has actually strengthened her own faith by working through these issues.
Esplin was asked to explain the foundational Joseph Smith story for the audience. In response, she placed the story in the context of other religious narratives that one cannot passively accept. Such framing allowed the audience to sympathize with her spiritual journey and to perhaps identify similar challenges in their own faith. Quinn inquired into the LDs priesthood, temple issues, sacred undergarments, and marriage as well.
One thing that stood out was Esplin's ability to balance her explanation of Mormonism in collective terms and in personal terms. One of the struggles with explaining one's faith to others is to what extent one explains the faith as an observer -- one who can "interpret" religious meanings to those outside the faith -- and to what extent one speaks not as an interpreter but as a conversant who communicates one's personal faith in "I believe" terms rather than "we believe" terms. It isn't easy to strike this balance, but Esplin did an excellent job in this area.
Take a look... view here
1/1/2000 5:00:00 AM