By Fr. Mike Boutin -- June 15, 2009
Photo: "Calming the Storm" James B. Janknegt 1982-2002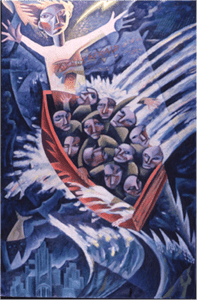 Next Sunday, June 21st, is the 12th Sunday in Ordinary Time.
The liturgical season is now Ordinary Time: not as in contrast to "extraordinary" time, since all time in Christ is extraordinary. Instead, we call it Ordinary Time, because the Sundays are "counted" (think ordinal numbers). The color for Ordinary Time is green.
Here are the readings for next Sunday: http://www.usccb.org/nab/readings/062109.shtml
Here are a few good sites for exegesis (an explanation of what the biblical texts are trying to say):
http://liturgy.slu.edu/12OrdB062109/main.html
http://www.textweek.com/yearb/properb7.htm
http://www.rc.net/wcc/readings/jun21.htm
Preachers, any good homily starters? How do you prepare to preach each week? Which resources do you rely on? Share them with us, please!
http://www.patheos.com/Engage/Discussion-Forum.xml?plckForumPage=ForumDiscussion&plckDiscussionId=Cat%3a31dfef4e-4821-423a-b66d-9def1f179027Forum%3aedd52e41-e3b1-4454-8f35-c1177c016b93Discussion%3ae1daee1d-b123-415f-8e4d-e84aa270f802
General Liturgical Resources:
cf Living Liturgy 2009 http://www.litpress.org/Detail.aspx?ISBN=9780814627464
Companion to the Calendar: http://www.amazon.com/Companion-Calendar-Mary-Ellen-Hynes/dp/1568540116
General Preaching Links:
http://www.religiousresources.org/directory/cat.php?cat_id=84
http://www.preachingcoalition.org/
http://www.domcentral.org/preach/cathresources.htm
http://www.catholiclinks.org/homiliasenglish.htm
General Exegetical Links:
Preaching the Lectionary
http://www.amazon.com/Preaching-Lectionary-Word-Church-Today/dp/0814613519
Jerome Biblical Commentary: http://www.amazon.com/Preaching-Lectionary-Word-Church-Today/dp/0814613519
St. Paul Center for Biblical Theology http://www.salvationhistory.com/
http://www.crossroadsinitiative.com/library_category/38/Catholic_Bible_Study.html
http://phatcatholic.blogspot.com/2007/01/scripture-commentary-by-fr-william-g.html
http://www.catholic-pages.com/dir/commentary.asp
General Intercessions (Prayers of the Faithful)
Here are some general principles: http://dsjliturgy.blogspot.com/2004/09/10-principles-for-writing-general.html
Good examples of intercessions for the 12th Sunday in Ordinary Time: http://liturgy.slu.edu/12OrdB062109/ideas_other.html
Here's some interesting preaching blogs worth exploring:
http://www.catholicpreaching.com/
http://deacbench.blogspot.com/2009/02/its-general-mediocrity-of-catholic.html
http://www.americamagazine.org/blog/blog.cfm?blog_id=1
1/1/2000 5:00:00 AM