By Leo Brunnick, CEO Patheos May 18, 2009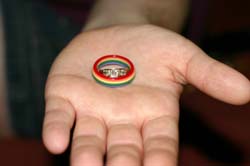 These days it's hard not to run across a news story about same-sex marriage. Whether the headline is about ballot initiatives, an inaugural prayer, state Supreme Court decisions or even what a beauty pageant contestant said--we're all talking about it.
In a recent nationwide poll that we at Patheos commissioned from Opinion Research Corp., we asked respondents to rank a series of "topics that could involve religion" according to which were "most pressing in America today." You probably won't be surprised to learn that same-sex marriage led the list.
Last week, Patheos covered Same Sex Marriage: Religion and Politics, and this week we shift to:
Same Sex Marriage: Sex and Belief
As we continue this series, here are some of the questions underlying content on our Public Square and just inside our Gateways: How do the different faith traditions define marriage? Is the definition of marriage open to interpretation? Is same sex marriage always morally wrong? Or always morally acceptable?
As you read some of the fantastic new pieces that we have lined up - from some great theologians and preachers across many of the world's traditions - you will see that the complexity of the topic is part of what drives the passions on all sides of it. Read, think and (we hope) understand a bit more than when you started.
1/1/2000 5:00:00 AM