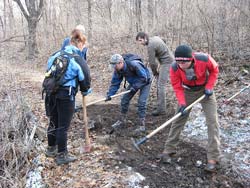 Need go get dirty and work hard to feel like you've had a vacation? Check out these links that will give your vacation meaning as well as pictures.
http://www.oneworld365.org/
One World 365 is a directory of volunteer projects, gap year ideas, career break & year out projects, seasonal work, teaching jobs, working holidays, summer / winter jobs featuring 9179 organizations worldwide.
http://www.christianvolunteering.org/
ChristianVolunteering.org is a program of TechMission that matches volunteers to volunteer opportunities and helps organizations recruit volunteers through online volunteer matching. In many ways ChristianVolunteering.org is like job matching websites like Monster.com except that we match volunteers to organizations with volunteer opportunities. Individuals can find opportunities as a local volunteer, virtual volunteer (volunteering from home), short term missionary, or intern at organizations across the US and internationally. Organizations can post volunteer opportunities to recruit volunteers online. ChristianVolunteering.org and UrbanMinistry.org are both programs of TechMission, and share a common login, volunteer opportunity and organization listings.
http://www.crossculturalsolutions.org/
Our Mission is to operate volunteer programs around the world in partnership with sustainable community initiatives, bringing people together to work side-by-side while sharing perspectives and fostering cultural understanding. We are an international not-for-profit organization with no political or religious affiliations.
1/1/2000 5:00:00 AM